Emergency hospitals built in record time were 'ultimate insurance policy' says NHS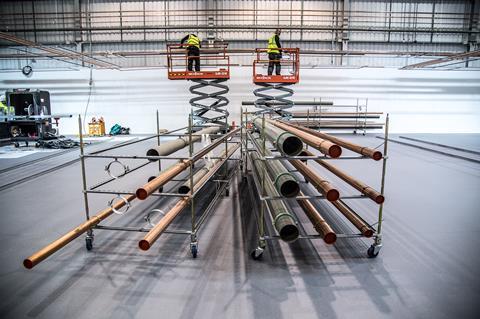 The Nightingale hospitals created in record time at the start of the pandemic are to be permanently closed from next month, the NHS has announced.
Seven emergency intensive care units were created across England last year, with the first opening at the ExCel exhibition centre in east London in April, after less than a fortnight's work. Similar facilities were created in Scotland, Wales and Northern Ireland to cope with a projected tidal wave of covid patients.
They were hailed as a remarkable example of what the construction industry could achieve when everyone pulled together. BDP led the conversion of the London Nightingale and was also behind many of the others, along with Stride Treglown and a long list of other firms.
In the end just 51 patients requiring mechanical ventilation were treated at the ExCel and some of the other facilities never received a single covid case, although several have since been used as vaccination centres or for other medical purposes.
There has been criticism that they were misguided and a waste of money, though people close to the projects point out that at the start of the pandemic Italy's experience suggested "sheds for intubated patients" was exactly what the nation urgently required.
Today an NHS spokeswoman confirmed that from April the patient care provided in the surge hospitals would "transition back" to local NHS services, though vaccinations will continue to be administered at London and Sunderland for the time being.
She said: "Since the very early days of the pandemic the Nightingale hospitals have been on hand as the ultimate insurance policy in case existing hospital capacity was overwhelmed but, as we have learnt more about coronavirus, and how to successfully treat covid, existing hospitals have adapted to significantly surge critical care capacity and even in the winter wave – which saw more than 100,000 patients with the virus admitted in a single month – there were beds available across the country."
The spokeswoman thanked "the many NHS staff and partners who worked so hard to set the Nightingales up so swiftly and of course the public who followed the guidance on controlling the spread of the virus and helped to prevent hospitals being overwhelmed".