Studio Multi will work up plans while long-term regeneration bid rolls on
Winchester city council has picked London practice Studio Multi to create upgrade proposals for the Kings Walk shopping centre, while a long-term redevelopment partner is found.
The authority's efforts to regenerate a chunk of the city centre have come under intense scrutiny over the past decade. In 2015 a project drawn up by Allies & Morrison for TIAA Henderson Real Estate foundered, and the council was found to have seriously breached procurement rules when it appointed Henderson on terms renegotiated from an earlier agreement.
In 2018, JTP drew up a new masterplan for the city centre's redevelopment.
This week Winchester said Studio Multi was working with landscape architect TO Studio, lighting designer Light Follows Behaviour and graphic designer Tim George to find ways of improving shop fronts and walls in Kings Walk, Middle Brook Street, and Silver Hill.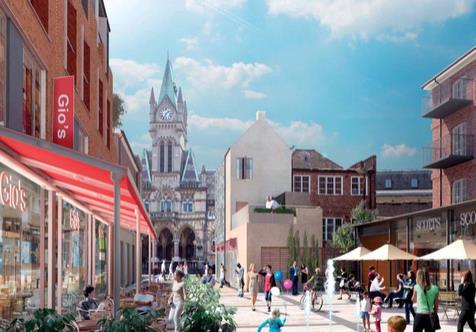 The council said the work would cover an area of 1,770sq m and aim to bring more creative, independent businesses to the city centre while a procurement process to appoint a development partner for the city centre's long-term redevelopment is under way.
Cabinet member for housing and asset management Kelsie Learney said it was important to introduce interim ways of making the city centre more attractive while longer-term transformation plans were taking shape.
"This is a great opportunity to give a short-term boost to the look and feel of our city centre and encourage growth of the active creative and cultural community in our area," she said.
Studio Multi director Nicola Rutt, a former Hawkins Brown partner, said she expected the project to make a "significant contribution" to improving the overall character and appearance of the area.
"Our particular emphasis is on revitalising the open spaces of Kings Walk and turning them into usable extensions of indoor spaces, not least in response to the increasing demand for such areas in the wake of the pandemic," she said.