Temporary public square will replace vacant medical centre ahead of long-term £150m redevelopment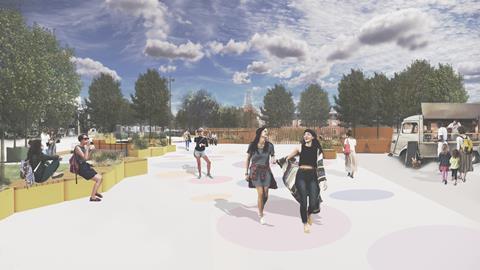 Arup has become the latest design firm drafted in to provide a stop-gap makeover for part of Winchester while the city council finds a new partner for long-term redevelopment plans.
The practice has just lodged proposals to create temporary public space on the site of a disused GP practice that is earmarked for demolition, as the procurement process for the area's redevelopment launched.
Arup's plans, created for the city council, include a new timber-decking bridge over the River Itchen watercourse, tree-planting, picnic benches, and a sustainable lighting strategy for evening events.
Director Sophie Camburn said the temporary transformation of the Friarsgate Medical Centre site was an "important next step" for central Winchester, and would also provide three new north-south access routes to Winchester bus station and the city centre.
"Our design is driven by circular economy principles to create a creative and dynamic public realm for all users," she said.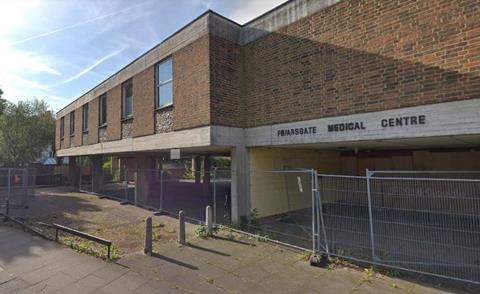 Earlier this month Winchester announced it had appointed Studio Multi to create "meanwhile" upgrade proposals for the Kings Walk shopping centre in the city, while long-term redevelopment plans progress.
In 2015 a £165m project drawn up by Allies & Morrison for TIAA Henderson Real Estate foundered and the council was found to have seriously breached procurement rules when it appointed Henderson on terms renegotiated from an earlier agreement.
In 2018, JTP drew up a new redevelopment masterplan that formed the basis of a supplementary planning document for a 4.5ha chunk of central Winchester.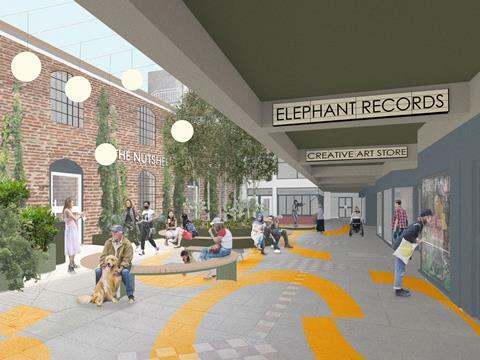 Last week Winchester formally launched the procurement process for a development partner to deliver the "vibrant" retail and cultural redevelopment of around one-third of the regeneration-area footprint – including the Friarsgate Medical Centre site.
Its brief for the project – valued at £150m – includes around 17,000sq m of new residential space, 7,500sq m of new mixed-use space, and 2,300sq m of new retail or food-and-drink space.
It says the authority's vision is for a "mixed-use, pedestrian-friendly quarter that reflects the distinctive character of Winchester city centre" and "incorporates the imaginative re-use of existing buildings".
Expressions of interest must be submitted by midday on 21 April. A briefing morning for potential bidders is being held on 6 April.