Covid sends second quarter GDP tumbling by more than 20%
The covid-19 crisis helped send gross domestic product plunging by the greatest amount on record – falling by 20.4% in the three months to the end of June.
The news from the Office for National Statistics means the UK economy is officially in recession after GDP declined 2.2% in the first three months of the year.
It is the first time the economy has been in recession since the 2008 and the second quarter fall is the biggest three month decline since comparable records began in 1955.
But there were signs a recovery of sorts was underway in June with GDP growing 8.7% in the month as lockdown measures were gradually relaxed and pent-up demand fuelled a rise in consumer spending following a 2.4% rise in growth during May.
Jonathan Athow, ONS deputy national statistical for economic statistics, said: "The economy began to bounce back in June with shops reopening, factories beginning to ramp up production and housebuilding continuing to recover. Despite this, GDP in June still remains a sixth below its level in February, before the virus struck.
"Overall, productivity saw its largest fall in the second quarter since the three-day week [in the 1970s]. Hospitality was worst hit, with productivity in that industry falling by three quarters in recent months."
The ONS data said it was clear the UK is in the largest recession on record, with the latest estimates showing the UK economy was 17.2% smaller than it was in February.
The bulk of the damage came in April, at the height of the lockdown, with the month alone recording a record fall of 20%.
The ONS said industries hit the most were those exposed to public health restrictions and the effects of social distancing.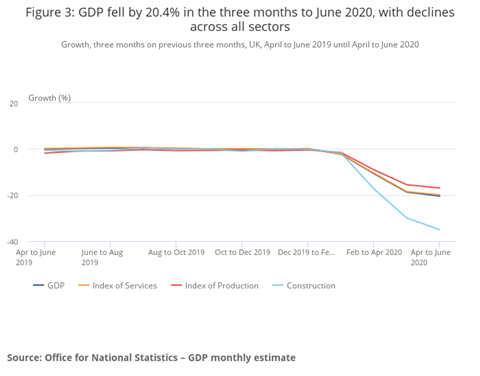 Construction was among the most affected, with the sector contracting by 35% in the three months to June. Only accommodation and food services, which fell by 86.7%, and other services, 45.4%, were more badly affected.
All the headline sectors provided a negative contribution to GDP growth in the three months to June with the services sector falling by 19.9% and production by 16.9%.
But construction began to bounce back in June, expanding by 23.5% although the activity level is 24.8% less when compared to February – the month before covid-19 restrictions were introduced.
Month-on-month, output in construction grew by 23.5% following growth of 7.6% in May and a record fall of 40.2% in April 2020.
This increase was driven by new housing, and in particular private new housing, which grew by 42.3% after large declines in March and April. It contributed 18.1% of total construction activity.
The ONS said GDP estimates for June were subject to more uncertainty than usual as a result of the challenges it faced in collecting the data under government imposed public health restrictions.