Former head of civil service dies from cancer
Housing and local government figures have paid tribute to Lord Bob Kerslake, who died at the weekend at the age of 68 following a battle with cancer.
Lord Kerslake led the civil service between 2012 and 2014 under the coalition government. Alongside this role, he also served as permanent secretary at the Department for Communities and Local Government between 2010 and 2015, overseeing housing policy in the austerity era as ministers pushed through cuts to housing funding.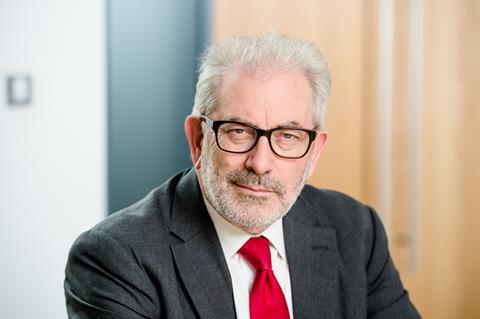 Lord Kerslake, a chartered accountant by trade, worked for several local authorities including the Greater London Council, handling transport finance.
He later become chief executive of Hounslow Council and then chief executive of Sheffield Council in 1997, before being knighted for services to local government in 2005.
From 2008 to 2010 Lord Kerslake became chief executive of the Homes and Communities Agency, a predecessor body of Homes England which administered billions of pounds of grant funding for affordable homes programmes.
Lord Kerslake was made a peer in 2015 and later became chair of 104,000-home housing association Peabody, a role he held until his death.
In 2021, Lord Kerslake was commissioned by London mayor Sadiq Khan to carry out a review of the Greater London Authority's housing delivery. Lord Kerslake's review, which was accepted in full, contained a recommendation beef up land acquisition and assembly as a first step towards setting up a City Hall developer.
In October Lord Kerslake was appointed chair of FuturePlaces, a development company owned by Bournemouth, Christchurch and Poole council aiming to drive £3bn worth of development.
Lord Kerslake was a commissioner on Building's ambitious Building the Future Commission launched in January to improve the built environment. He was also a regular columnist for Building's sister title Housing Today.
Following his death housing and local government figures paid tribute to Lord Kerslake.
Kate Henderson, chief executive of the National Housing Federation, said: "Bob was a dedicated public servant who made such a positive contribution to national and local government, social housing, regeneration, homelessness, planning and much more.

"Everyone who worked with Bob will know he was compassionate, principled and very clever. He was also kind, supportive and generous with his time and expertise, something I hugely appreciated both earlier in my career at the Town and Country PCPA and more recently at the NHF."
Geraldine Howley, chair of the Chartered Institute of Housing, said: "Lord Bob Kerslake was a truly special person. He had great moral judgment and reasoning and spoke with the clarity and conviction of a great leader.
"He supported me and also our quest to develop upcoming housing talent through The GEM Programme and will be greatly missed by colleagues in social housing."
Ian McDermott, chief executive of Peabody, said: "We are all shocked by the sad news our chair Lord Bob Kerslake passed away yesterday after a short battle with cancer.
"Everyone who knew Bob was truly inspired by his exceptional talent, strong work ethic, and above all, his humanity and kindness. He was a remarkable individual who worked tirelessly to improve people's lives, and I feel privileged to have had the opportunity to know him over the past two years.
"His absence will be deeply felt across Peabody, as well as in the sector and public life in general. Our thoughts are with his wife Anne and his family."
Chloe McCulloch, editor of Building Design, said: "So sad to hear the news of Lord Kerslake's death. He was always so generous with his time and helped our journalists often, most recently as one of our Building the Future Commissioners. His passing is a huge loss, and we will no longer benefit from his wisdom and years of experience in the housing and development world."