Prime minister wants to win over Manchester mayor amid backlash against expected HS2 cuts
Rishi Sunak is considering funding a new underground rail station in Manchester in an effort to win the support of regional leaders if HS2's northern leg is scrapped, according to reports.
The prime minister wants to secure the backing of the city's Labour mayor Andy Burnham, who has been a strong supporter of the underground station plan, the Times reported.
Sunak is widely expected to either cancel or postpone the second phase of HS2, which runs from Birmingham to Manchester, to save money.
But there has been a growing backlash against the move, led by Burnham, who argued it would "rip the heart" out of plans to upgrade northern rail services and risk creating a "north-south chasm".
The mayor said scrapping the link would leave the north of England with "Victorian infrastructure, probably for the rest of this century".
Glenn Howells, founder of Birmingham-based practice Howells, has described the proposed cuts as "reckless not prudent".
"Transformational development funded from uk and overseas in Birmingham has been driven over the last few years by confidence generated by HS2 connecting the city both to London but also to Manchester," Howells said.
"Birmingham and the West Midlands has enormous capacity for growth in terms of housing, skills and jobs which will not happen if HS2 is botched."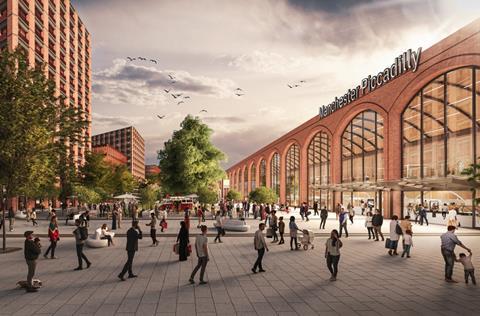 Concept proposals designed by Bennetts Associates for the underground station in Manchester are being backed by regional leaders including Northern Powerhouse Partnership, along with London mayor Sadiq Khan and the London Chamber of Commerce and Industry.
Current plans would see the station function as an interchange between HS2 and Northern Powerhouse Rail (NPR), a proposed high speed line linking northern cities between Liverpool and Leeds.
A report by HS2 has estimated the scheme would have a price tag of £12bn, although this has been questioned by a group of northern councils who argue it would cost around £9.5bn.
The government's current preferred option would be an easier to build £7bn above ground station, although this would require a viaduct up to six tracks wide to be built through the centre of Manchester.
Opponents of this option also say it would make it harder for the station to function as a hub between NPR and HS2.
Plans for NPR would be dependent on a 13-mile stretch of HS2 line between Manchester Piccadilly station and Manchester Airport.
In a letter to the prime minister, Burnham said yesterday that if HS2's northern leg was scrapped, he would be "open to a discussion about prioritising the northern section of the line, between Manchester Airport and Manchester Piccadilly, so that it enables NPR to be built first".
Sunak is reported to have become "alarmed" at the spiralling cost of HS2, which has increased from £37.5bn in its first 2009 estimate to £106bn in 2023.
He is said to be particularly concerned by an apparent lack of cost controls, high salaries for executives and claims that the line has been deliberately "over-engineered".
One government official told the Times: "The whole project has been over-specced. It seems that the mantra of HS2 bosses has been to massively overspend all along to make it too big to kill … From the start they were like kids with the golden credit card."
The official claimed the cost of the project's first phase between London and Birmingham were "far worse than anyone knows" and will "absolutely bust" the leg's most pessimistic contingency funds of £44.6bn.