Architect progresses new floating lido scheme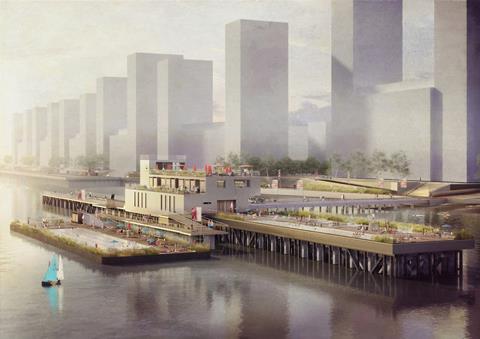 Studio Octopi has released an image of its plans for a floating swimming pool in east London.
The architect is working with a new partner on a confidential location east of the Royal Docks on its latest scheme for the East London Baths.
Studio Octopi has been working on a series of ideas for £11m floating lidos on the Thames at six central locations for the last six years. In 2015 it raised more than £125,000 in a month which allowed it to commission technical consultants.
Founding partner Chris Romer-Lee said in an email to supporters: "Over the last year we've been working with a new partner on a confidential location in east London.
"This site is east of the Royal Docks and unlike previous locations in central London, we've had to embrace new constraints and opportunities with an area undergoing dramatic change."
He unveiled the new image at the Swiss Architecture Museum in Basel – a famous river-swimming city – where an exhibition called Swim City has just opened showcasing the phenomenon of river swimming in cities around the world.
Speaking about the practice's ongoing Thames Baths project, he added: "The East London Baths is the first outside the central London section of the Thames and is bringing with it some very exciting opportunities. With this location comes more space (effectively meaning less floating, more landside which is cheaper) and a very different context socially and economically.
"There is some way to go but each new site has bought more certainty that this project will happen. We continue to engage positively with the authorities, referencing the work of other groups across Europe and north America who have also been inspired by Switzerland's long history of opening up their urban waterways for the benefit of citizens."