Henley Design proposals will replace Peckham Rye homes plagued by severe structural problems
Councillors have approved proposals to demolish the final two blocks of a problem-plagued housing development in south London barely a decade after its completion.
Henley Homes this week received backing for a completely new development of 91 homes at Solomon's Passage, next to Peckham Rye, created by the firm's in-house architecture team Henley Design.
The original Solomon's Passage development was completed between 2009 and 2012, but problems with the 85-home scheme began to emerge in 2013. Green Acre Homes (South East) Ltd was the original developer of the project for Wandle Housing Association, but it was wound up in 2011.
Issues at Solomon's Passage included water ingress, damage to the buildings' timber frames, leaking roofs, damp, poor wiring and fire-safety measures, and concerns with the timber cladding. A 24-hour waking watch system was introduced because of fire-safety concerns well before 2017's Grenfelll Tower fire. The scheme's original residents have been rehoused.
Proposals by ECD Architects that would have retained and reconfigured two of the development's blocks were approved by Southwark council in 2018. But Wandle Housing Association sold the site to Henley Homes last year and the firm created new plans.
A report to members of Southwark's planning committee said Henley's plans to replace the blocks entirely represented "improved residential quality and design" compared with the existing flats and the previously approved redevelopment proposals. They added that the increase of six homes compared with the 2012 development's 85 properties would also contribute to the borough's housing targets.
The report said 22 of the new development's homes would be designated for social rent and 10 would be "intermediate" tenure, which translated to 40% affordability for the overall scheme when calculated by habitable rooms.
Planning officers said Henley's proposed main building for the scheme would be much better than the structure it will replace, but of similar proportions – with a "shoulder height" of five storeys and a further two storeys set back above.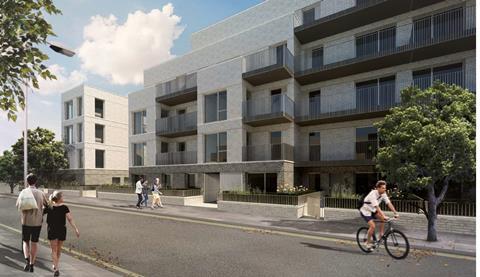 "The architectural composition would be a great improvement on the existing block," they said.
"The brick base of block A with glass- and metal-clad storeys above would form part of a well-ordered and proportioned building facing the park. It would be simpler and more elegant that the existing building."
Officers also supported Henley's plans to use light-coloured brickwork with bronze windows, balconies and upper floors.
"Collectively the design of the replacement blocks would provide a more elegant and contextual scheme as an improvement upon the architecture and poor-quality materials of the existing buildings," they said.
Members of Southwark council's planning committee approved the scheme unanimously.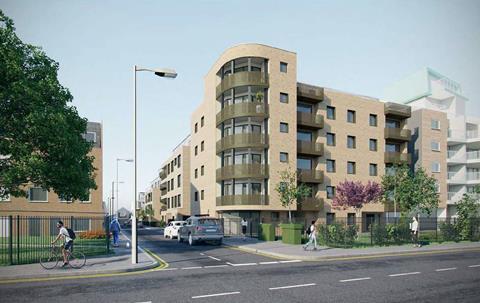 In 2018, when it received approval for ECD Architects' plans to redevelop some of the Solomon's Passage flats and to reconfigure remaining blocks, Wandle Housing Association said it was "pursuing litigation against other parties involved in the design and construction" of the original scheme.
Building Design this week sought an update from the housing association on progress with that litigation and confirmation of the original architect and main contractor for Solomon's Passage.
Wandle declined to name the firms or provide further details on the progress of its legal bid.
Hoardings on the project site during its construction phase described "Greenacre" as offering "land, design, planning and construction" services.