London-based architect believes more UK practices could benefit from exporting their services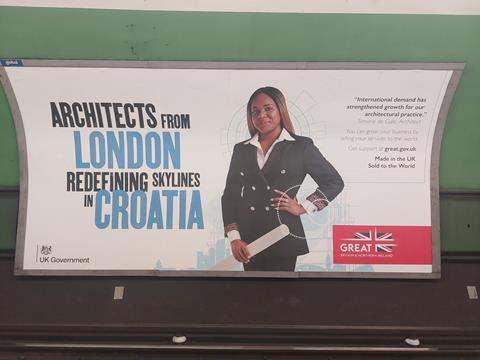 Simone de Gale, founder of Simone de Gale Architects, has been selected to front a UK government trade campaign.
Billboards and video advertisements featuring de Gale are on display across the Tube and will be used to promote the Department for Business and Trade's (DBT) push to get more architects engaged in exporting their services internationally.
"When the UK voted to leave the EU in 2016, I knew we needed to make a conscious effort to invest in exporting directly and building sound international relations," said de Gale.
Simone de Gale Architects has won a string of recent overseas commissions, and de Gale herself has become a vocal advocate for architects diversifying their client base beyond the UK.
"Exporting is very important for my business", she said. "As an architect fresh out of university, it was difficult to be considered for large scale projects in central London where we are based, because the competition was so high."
De Gale has been on a number of government-led trade missions with the DBT and sees the work as central to building her practice's profile. "In 2017, we won a handful of projects in Tbilisi Georgia with a Georgian client, and have continued to grow our international portfolio."
She believes that a strong focus on exports has allowed her practice to build a "robust portfolio of good quality projects", including master-planning, residential, retail and commercial commissions.
"The experience we've gained abroad is something we've then been able to bring back to London", she told BD. "I can now see we are also winning those larger London based projects on the back of our international work."
Exporting is also important to her practice because of the diversity it provides, and protection against the UK economic cycle. "It means that when the economy is down in the UK, there are further revenue streams abroad, and our work continues," she added.
De Gale is due to join another trade mission to Saudi Arabia in the near future, a market that she admits she might not have considered without UK government support.
"It is also very interesting personally to learn of different cultures and experiences," said de Gale, before adding that "it enables us to connect with new interesting people from different parts of the world."
ARB has recently completed mutual recognition agreements with the US, Australia and New Zealand, which potentially make it easier for UK architects to work in and export to those markets. The government is believed to see architecture as a significant potential growth area for British exports.
>> Also read: Can British architects help build a 'global Britain' in emerging markets?