Nicholas Groves-Raines said removing 20% rate on conservation schemes would have a 'great impact' on sustainability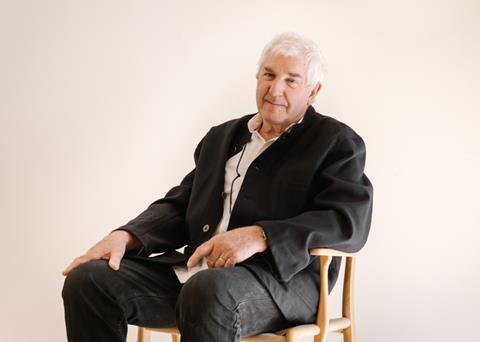 Conservation architect Nicholas Groves-Raines has followed up his recognition with an MBE by calling on the government to scrap VAT on building repairs.
The director of Edinburgh-based practice Groves-Raines Architects said removing the 20% tax burden on restorations would encourage more people to breathe new life into heritage properties.
Groves-Raines, whose career spans more than half a century, made the comments on the same day as being recognised in this year's Queen's Birthday Honours for services to architecture, heritage and conservation.
He said: "Sustainability in architecture has to start with the restoration of existing buildings. Keeping what we have and reusing it is one of the best ways to save carbon.
"The greatest impact on this would be to remove the 20% VAT rate that applies to repair on existing buildings. As a private individual taking on an old building, you are being hammered with a 20% additional cost on what is already a costly exercise.
"By removing VAT on repairs more people would be encouraged to restore existing buildings and breathe new life into the traditional/vernacular heritage across the country."
Since the 1970s, Groves-Raines has specialised in restoring historic buildings which have been neglected in an effort to push back against the widespread 'slum' clearances of the post-war decades.
His projects include Robertson Close in Edinburgh, an early 18th century tenement that was earmarked for demolition by the council.
After purchasing the building for £1, the architect carried out a refurbishment and created seven homes, with the building later being listed by Historic Scotland.
The practice's other restoration schemes include Moubray House, Peffermill House, Liberton House and Lambs House in Edinburgh as well as the Lees Stables in Coldstream and Edinample Castle in Perthshire.
Groves-Raines said that acquiring the buildings was the "only way to save them" because of attitude towards heritage properties at the time.
"A lot has changed since I began working as an architect," he said. "There was little appreciation within the profession for old buildings and the fabric of whole townscapes were destroyed in the 'slum' clearances of the 1960s and 1970s.
"As a young architect I wanted to push back against this. I was fired up to record a number of these buildings that have since been lost. In an effort to counter this wanton waste I determined to take on some development projects of my own at a time when architects weren't allowed to take on developments."
Groves-Raines is a former trustee of the National Trust for Scotland and was awarded the RIAS Lifetime Achievement Award in 2017.
His comments on scrapping VAT on restorations comes amid growing calls to cut the tax on retrofit projects. In March, chancellor Rishi Sunak announced a zero-rate for VAT on the installation of energy saving materials such as solar panels, insulation and heat pumps on domestic properties.
But the measures, included in the spring statement, stopped short of setting out a co-ordinated programme to retrofit UK homes which has been urged by a number of bodies including RIBA, the UK Green Building Council and the Federation of Master Builders.
The policy is seen as being a crucial enabler of improving the energy efficiency of existing buildings so carbon-intensive demolitions and rebuilds can be avoided.