Community-led design to pave way for modular housing project in Ladywell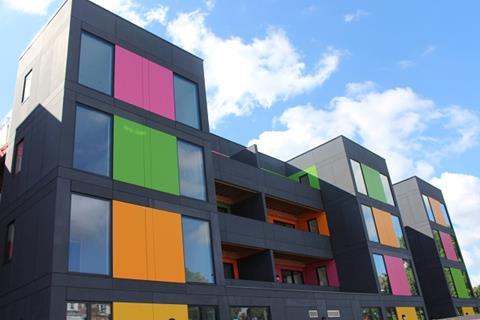 Feilden Clegg Bradley has been chosen to design a scheme in Lewisham that will replace temporary modular housing designed by Rogers Stirk Harbour & Partners.
The mixed-use development is likely to contain about 200 homes, about 50% for social rent.
The RSHP project, Place Ladywell, contains 24 two-bedroom homes for families who would have otherwise been homeless. It has been run for the past four years by the council's social housing provider, Lewisham Homes.
It was always intended to be a temporary use of the site, which was previously occupied by Ladywell swimming baths. The flats will be moved to a new location and the council said it would work with current tenants to determine where they will be housed.
Feilden Clegg Bradley Studios, which is working with local artist Jake Sherwood, carried out a public consultation last week to come up with possible designs for the new scheme.
A spokesman for Lewisham Homes said site investigations would take place in the coming months "to provide more context to design proposals to enable a clearer picture on what could be built and timescales. We then aim to meet again with the community in late spring/early summer".
It has previously spoken of the development containing 200 homes, with half being for social rent.