Pledge comes after transport minister demanded rework of Taipei terminal design
RSHP has said its project team for a new terminal at Taipei's Taoyuan International Airport is committed to working with management to find a way through cost and construction issues with the project.
Last month, Taiwan's transport minister demanded a rework of RSHP-designed proposals for the airport's third terminal to speed up delivery of the already-delayed structure and blamed its "sophisticated design" for difficulties in finding a construction team for the project.
Lin Chia-lung said the government had increased the budget for the project but added that the original design "must be modified to allow construction of the project to be kick-started as soon as possible", the state-owned Central News Agency reported.
CNA said Lin had given the project team – which brings together RSHP, CECI Engineering Consultants, Ove Arup and Partners Hong Kong, and Fei and Chang Associates – six months to revise the proposals, worked up after the joint-venture team won a 2015 design competition for the project.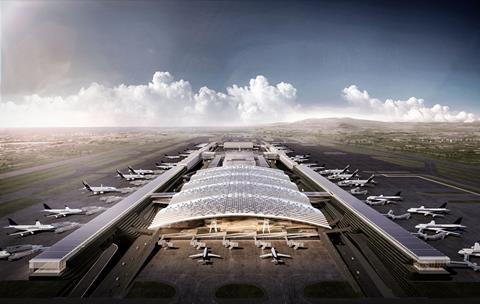 The news agency said Lin had warned: "If it fails to meet our demand, we will consider terminating the contract with the design consultant company."
A statement issued on behalf of the project team this month pledged to work with airport bosses and the government to find a solution
"The design of Terminal 3 that has been developed by the JV team was selected as a result of a formal design competition process in 2015 and it has been developed by the team in close coordination with and to the specific requirements of its client in the subsequent months," it said.
"The JV team is committed to helping TIAC to resolve its current budgetary and procurement challenges and continues to work closely with them to do so."
The RSHP team beat rival consortia including Foster & Partners and UN Studio with a design inspired by traditional Taiwanese rooftiles and the nation's dramatic scenery. The interior proposals also feature lighting provided via flower-shaped aluminium tubes.
But the project budget has risen from £1.5bn while its completion date has been pushed back to 2023 from the originally envisaged 2020.
CNA said that the project's budget had increased by 5% this year alone and that the project's budget was now NT$78.9bn – £2bn at today's exchange rates.