Minister says overly sophisticated proposals hampering search for contractor
Taiwan's transport minister has demanded a rework of RSHP-designed proposals for the third terminal of Taipei's Taoyuan International Airport to speed up delivery of the already delayed structure.
RSHP was appointed to the £1.5bn project in 2016 after the practice's bid team beat rival consortia that included Foster & Partners and UN Studio. Its winning design was inspired by traditional Taiwanese rooftiles and the nation's dramatic scenery. The interior proposals also feature lighting provided via flower-shaped aluminium tubes.
But at a press conference last week minister Lin Chia-lung blamed the design of the 640,000sq m terminal for difficulties in establishing a construction team, and demanded a rethink within six months, the state-owned Central News Agency reported.
It added that the project's budget had increased by 5% this year alone because of the difficulty of attracting bidders to deliver the scheme while its target completion date had been pushed back to 2023. CNA said the project's budget was now NT$78.9bn – £2bn at today's exchange rates.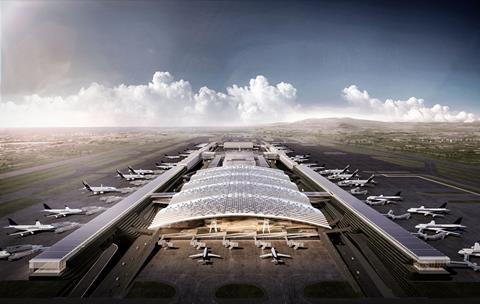 BD reported the project was worth £1.5bn when RSHP was appointed to the job as part of a team including Arup, landscape practice Gillespies and Taiwan-based CECI Engineering Consultants, however sterling exchange rates have also weakened since then.
CNA reported transport minister Lin saying that elements of the scheme that had been under construction since 2017 – including taxi ways and aprons – would be paused temporarily.
"Now that the government has increased the budget for the project … the original design must be modified to allow construction of the project to be kick-started as soon as possible," he said.
"The bid to seek a constructor to carry out the project has failed (three times) because of its sophisticated design, and we have asked the design consultant company to make a change within six months to attract bidders to the project.
"If it fails to meet our demand, we will consider terminating the contract with the design consultant company," he added.
BD asked RSHP for a its response to the report. It had not provided one at the time of publication.