Peter Barber's Architecture Room takes inspiration from the "analogue, crafted and handmade"
The Royal Academy's 255th Summer Exhibition has opened. The 2023 Architecture Room has been curated by Royal Academician, Peter Barber.
In an apparent reaction to the prevailing digital focus of much contemporary design, the RA states that this year's Architecture Room takes its inspiration from "the process of construction and making", showcasing works that embody an "analogue, crafted and handmade" approach.
The room contains a selection of models, drawings, textiles, and ceramics. The gallery's focal point consists of two monumental pieces by the late Phyllida Barlow RA.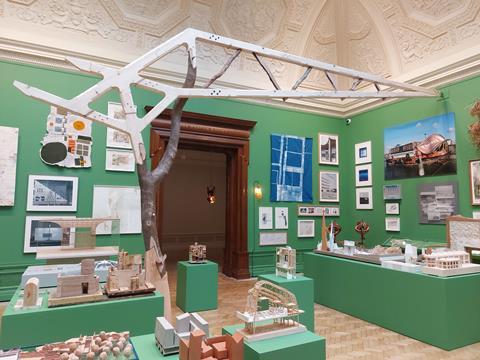 Additionally, occupying a significant portion of the space, there is a large structure composed of a truss and a discovered tree, conceived by students from the Architectural Association's Design + Make MA program.
Assemble, the Turner prize-winning collective, make their debut as Royal Academicians and present prototypes of ceramic tiles utilized in their 2017 Art on the Underground project at Seven Sisters station.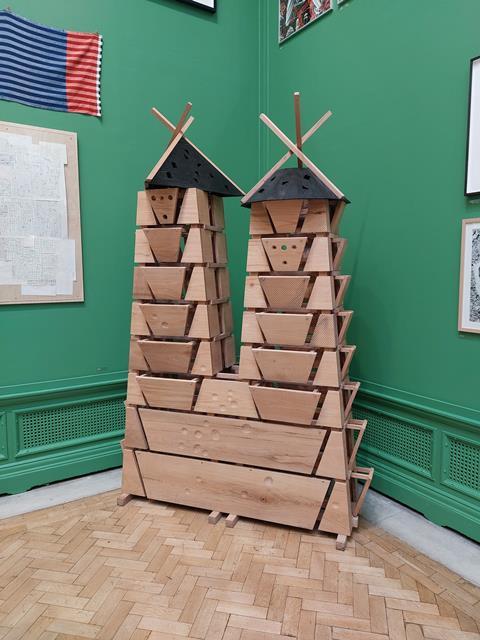 In a special invitation, Ugandan designer Jonah Luswata showcases his Moonlight Towers (2021), influenced by the obelisk's form and constructed using American red oak.
In a return to convention after last year's exhibition, when Niall McLaughlin co-curated two architecture rooms with artist and fellow Royal Academician Rana Begum, this year sees Barber acting as sole curator of a single room.