College says it plans to "revitalise" 1960s Darwin Building in Kensington Gore after Battersea base opens
The Royal College of Art has unveiled new pictures of its Herzog & de Meuron-designed Battersea campus as part of an update on its five-year development plan.
The £108m building won planning last year and is currently under construction by Kier. Once it is complete, in 2021, the college said focus would shift onto efforts to "revitalise" its grade II-listed Darling Building headquarters, in Kensington Gore.
Designed by Sir Hugh Casson, HT Cadbury-Brown and Robert Goodden, the Darwin Building was opened in 1961. The RCA said it intended to "rediscover the radical nature of this exceptional building and return to the startlingly bold vision of its founders".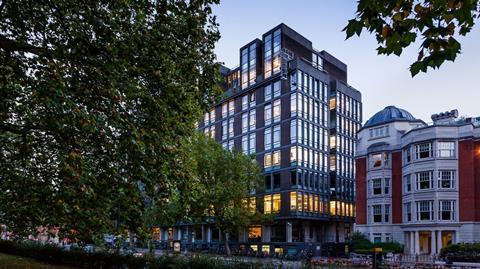 The RCA counts David Adjaye and Thomas Heatherwick among its former students, and is planning to expand its student population from 2,300 to 3,000 and take in science students for the first time.
Its 15,500m sq m Battersea centre will feature workshops and manufacturing facilities across a four-storey studio building and eight-storey research building.
The campus will also boast a triple-storey hangar for art shows, public walkways intersecting the site, and an on-campus café and art materials shop.