New neighbourhood earmarked for former car factory site in Dagenham
Peabody has submitted an outline planning application for a 3,500-home mixed-use development on the site of a former car factory in Dagenham.
The planned development on the site of an old Ford stamping plant will be designed by PRP Architects, with HTA Design working on the landscape and public realm.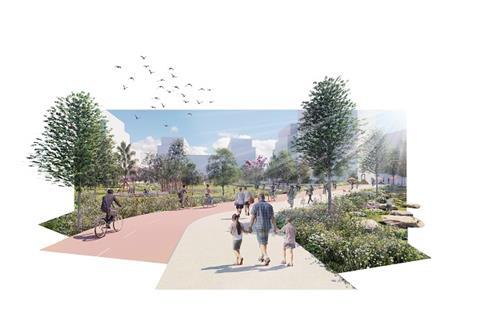 A total of 1,550 of the 3,500 homes are expected to be affordable, made up of a mix of London affordable rent and shared ownership.
The scheme also includes a five-acre park, cycling, pedestrian and bus route connections, shops, restaurants and land for a secondary school.
Housing association Peabody, which manages 67,000 homes, plans to consult on the detailed design of the first phase with the community later this year.
Detailed planning for phase one is anticipated to be submitted in Spring 2022 before a start on site in Spring 2023.