Proposals for 132 homes are the first phase of 1,000-home Vaux Brewery redvelopment
Proctor and Matthews and Mawson Kerr have submitted plans for the first phase of the 1,000-home redevelopment of the former Vaux Brewery site on the banks of the Wear in Sunderland.
The architects have put in a planning application - for development manager Igloo Regeneration - for 132 "ultra-sustainable" zero-carbon homes which are intended to be built out in time for the Sunderland Future Living Expo scheduled for 2023.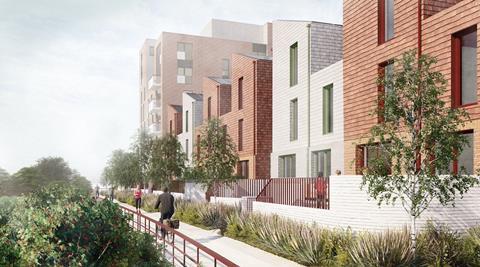 The scheme will include 91 houses and 41 flats, and marks the first part of the long-talked about redevelopment of the Vaux site.
The Vaux site is itself just one part of a wider "Riverside Sunderland" plan designed to create homes for 2,500 people and job locations for 10,000 workers.
Igloo is acting as development manager on behalf of Sunderland City Council, which owns the site.
igloo Regeneration's chief executive, Peter Connolly, said the homes will set a precedent for the quality of new housing in UK cities, creating a new neighbourhood in Sunderland. "They will be a shining example of how working closely with a community can create a mix of housing that reflects the rich fabric of the community and the scale of their ambition," he said.
Councillor Graeme Miller, leader of Sunderland City Council, said: "This is a hugely exciting step forward for a site that we have an absolute determination to transform into a vibrant mixed-use destination that is a world-class place to live, work and play.