Practice's first major Belgian project will provide 11-storey block for 4,000 SNCB staff
OMA has won the design competition to deliver a new headquarters building for Belgium's national railway company – SNCB/NMBS – in Brussels.
The practice, and local firm Jaspers-Eyers Architects, will deliver an 11-storey tall, 236-metre long block facing the railway tracks at Brussels South train station as part of a project that will also repurpose existing 1950s buildings at the station.
OMA said the headquarters was its first major project in Belgium, and that the proposed design would "preserve the ensemble" of the station's three monumental – but disused – buildings fronting Avenue Fonsny, and deliver a combined 75,000sq m of new office space that would bring together al SNCB departments under the same roof.
Project lead Reinier de Graaf said the new building's interaction between the existing station buildings, which were inaugurated in 1958 to coincide with the Brussels Worlds Fair, was an expression of the "double nature" of the Belgian capital.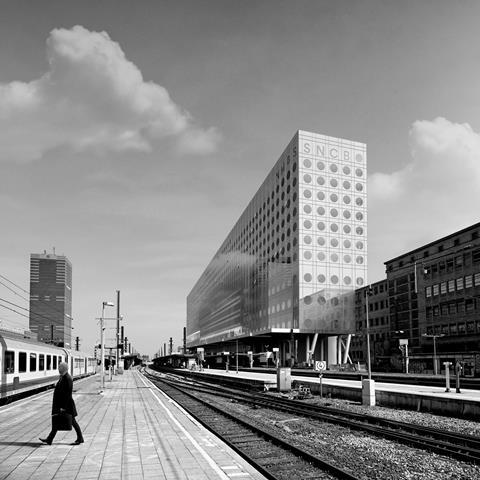 "It embraces the Belgian Brussels, with its early, and often courageous expressions of modern architecture, and the European Brussels, for which the European railway and the Brussels-South stand as symbols," he said.
In addition to space for 4,000 workers, OMA's headquarters proposals include conference and training rooms, a fitness centre, a restaurant, and rooftop gardens on the existing buildings.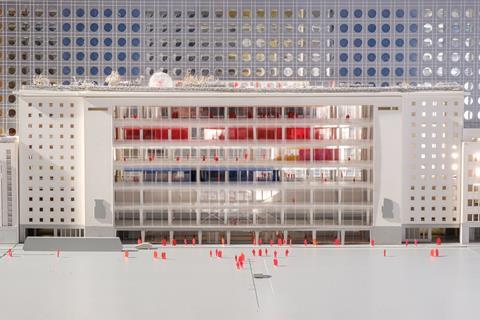 The practice said the new building featured a three-storey entrance lobby, shop space and visible access points to the railway tracks improve the street's appeal to the passersby.
OMA said that viewed from the railway side, the façade would show the "diversity of activities within" as part of an SNCB/NMBS drive for openness and transparency.
Associate Mark Veldman is project architect. The firms are part of a consortium including BESIX Group, BPC/BPI and Immobel.