£5.5m project due to open next year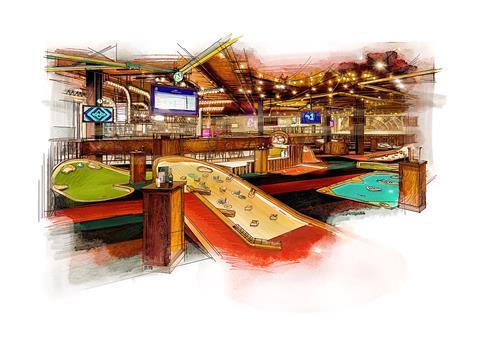 The basement of No1 Poultry is to be turned into a £5.5m indoor mini golf course.
Interiors practice Russell Sage has designed the 21,000sq ft Puttshack attraction which will open next year.
The course will be built beneath the co-working offices into which the rest of James Stirling's building is currently being converted. That project, by Buckley Gray Yeoman, is due to complete next month. The replacement of previous tenant Aviva with US firm WeWork was hailed by City leaders as evidence of Bank's transformation from a financial to a creative district.
Adam Breeden, founder of Bounce, the ping pong company behind the mini golf venture, said: "I've always wanted to locate a social entertainment concept in the heart of the city, and there could not be a better location than the symbolic No1 Poultry address. The area has been up and coming for a long time now and with the introduction of Puttshack it finally establishes itself as a truly varied and vibrant London destination."
No1 Poultry, designed by Stirling and Michael Wilford, was listed at grade II* in 2016. The minister's decision, based on a recommendation by Historic England and campaign work by the Twentieth Century Society, was something of a surprise as it came a year after a previous listing application was rejected. It enraged the building's new owner and forced work to be suspended on alterations by Buckley Gray Yeoman.