Cullinan Studio and Alison Brooks projects among nine other winners of regional accolades
Niall McLaughlin Architects has picked up two RIBA South Awards for different projects at Oxford University, while Purcell has also done the double in the 13-strong winners' list revealed today.
McLaughlin's Catherine Hughes Building at Somerville College and the practice's Master's Field development at Balliol College both pick up 2022 awards, while associate at the firm Holly Galbraith won a RIBA South Project Architect of the Year Special Award for Master's Field.
Purcell won awards for its God's House Tower project in Southhampton, which has converted a 700-year-old grade I-listed building into a public arts and heritage venue, and for the Story Museum in Oxford.
Alison Brooks Architects also won a RIBA South Award for the practice's Cohen Quadrangle at Oxford University's Exeter College, while KKE Architects was commended for its new state-of-the-art hospice at Maidenhead. Thames Hospice was also awarded RIBA South Client of the Year Special Award in relation to the latter project.
Cullinan Studio won both a regional award and a RIBA South Sustainability Special Award for its Push-Pull House project in Buckinghamshire, which is a large family home constructed from cross-laminated timber. (See box below for full list of winners.)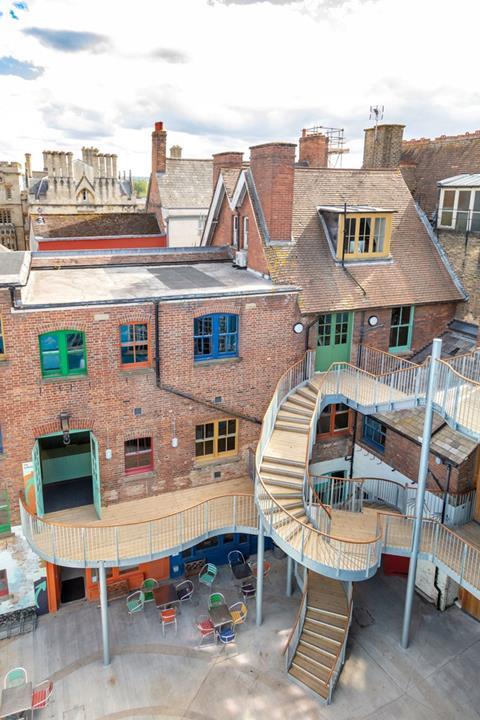 Regional jury chair Matthew Barnett Howland said: "At first glance, there is a wide range of distinguishing qualities across the 13 buildings that received a RIBA South Award this year: intense spatial ambition and delight; sophisticated urbanism and confident suburbanism; restraint and economy of means; creative relationship between architect and client; elegant simplicity in plan and section.
"But beyond their own individual strengths, what binds them together as a group is the sense that their outward form is the result of an underlying and hard-won clarity of thought, right from conception through to resolution. They are a triumph of both mind and matter."
An overall RIBA South Building of the Year winner will be announced at a ceremony at RIBA's 66 Portland Place headquarters on 24 May.
The 13 winners announced today will go forward for consideration for RIBA National Awards. Winners of those accolades make up the pool from which the Stirling Prize shortlist is drawn.
RIBA South Award 2022 winning projects
Barton Farm Primary Academy, Winchester, HCC Property Services
Catherine Hughes Building, Somerville College, Oxford, Niall McLaughlin Architects
Cohen Quadrangle, Exeter College, Oxford, Alison Brooks Architects
GHT – God's House Tower, Southampton, Purcell
Island Rest, Isle of Wight, Ström Architects
Lovedon Fields, Kings Worthy, Hampshire, John Pardey Architects with BBA Architects
Master's Field Development, Balliol College, Oxford, Niall McLaughlin Architects
Olivier Hall and Christie Centre, St Edward's School, Oxford, TSH Architects
Push-Pull House, Amersham, Buckinghamshire, Cullinan Studio
Thames Hospice, Maidenhead, KKE Architects
The Story Museum, Oxford, Purcell with Ramboll UK, RFK Architects & Tom Piper
Treadgolds, Portsmouth, Pritchard Architecture
University of Winchester West Downs Centre, Winchester, Design Engine Architects