Ministers should 'revisit' zoning and beauty proposals, select committee says
An influential group of MPs has attacked the government's proposed reforms of the planning system, calling on ministers to think again about the proposed new "zonal" approach and make sure that the public has a right to influence all individual applications.
The report by the Housing, Communities and Local Government Committee also called on the government to speed build-out of permissions by allowing councils to levy council tax on unbuilt developments – something ministers have already said they are considering.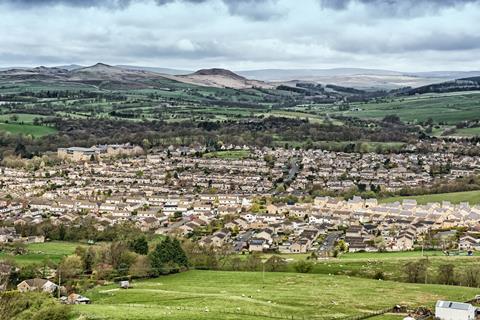 The MPs added that the government's ambition to have new-style local plans put in place within 30 months was "impractical". The committee said it needed more information as to how housing targets under the new housing need formula – which piles up demand in 20 key cities – will be delivered in practice.
The government's controversial proposals to reform the planning system were set out in the Planning for the Future white paper last August, which proposed forcing local authorities to zone their areas in to one of three designations: growth, renewal or protection.
Under the plans, areas zoned for growth would benefit from automatic permission in principle, while councils would also be made to deliver stripped back local plans in just 30 months. The proposals also suggested abolishing the section 106 system of developer contributions in favour of a flat-rate levy.
The select committee report on the plans was welcomed by critics of the government's approach, including the Local Government Association and countryside campaign group the CPRE.
The Conservative government has already faced significant opposition to the proposals from its own backbenchers, with former prime minister Theresa May, saying they would "reduce local democracy" and lead to "the wrong homes being built in the wrong places". Up to 80 Tory backbenchers are thought to be mobilising via Whatsapp to oppose the plans when they are brought forward later this year
Labour select committee chair Clive Betts (pictured) said that the ministry should "revisit" its plan to split the country in to one of three zones, as while the government's aim to produce a system that enables rapid build-out with greater input from local communities was welcome, "it is far from clear how the current proposals will achieve this".
Calling for the government to ensure that the public can comment upon and affect all individual planning applications, Betts said: "Public engagement is critical in planning – and our report stresses the need for the government to really get to grips with how it can best involve local people in the planning process. This is essential if any changes to the planning system are to be a success."
Local government critics of the reforms have said that plans to confer outline planning permission to development in designated "growth" zones via local plans will leave the public unable to influence individual applications when they come forward.
Regarding the new housing need formula, Betts said: "It's all very well having numbers on paper – but we need to know how we get to them in reality."
MPs also said that the government's plans were so vague at present, that it should bring them forward in the guise of a draft bill in order to allow further scrutiny prior to full legislation being presented.
Crispin Truman, chief executive of the CPRE, said: "It is no surprise the committee of MPs is 'unpersuaded' by the government's reckless and untested changes to the planning system. MPs, the public and civil society have been urging ministers to radically rethink the proposals set out in the Planning White Paper […].
"What we need is clear targets in planning for tackling the climate and nature emergencies and enhancing and protecting our countryside, rather than a narrow obsession with building more and more housing, regardless of whether that housing meets local needs."
David Renard, the Local Government Association's planning spokesperson, welcomed the committee's call for councils to be given powers to tax unbuilt permissions, and said the system needed to remain "democratically-led". He said: "A local, democratically-led planning system remains critical so local communities can continue to have their say on developments, ensure the right homes are built in the right places and shape the area they live in."
The committee also called for proper resourcing of the planning system prior to bringing forward wide-ranging reforms, a stance welcomed by local authority planners.
Royal Town Planning Institute chief executive Victoria Hills said the report backed its call for an extra £500m for council planners over the next four years.
She said: "As we have emphasised to Government, resourcing for planning is inadequate and reforms will place further demands on them unless this issue is addressed. The Committee is entirely correct to state that a major programme of reform is now contingent on government first ensuring the resources are in place."
Last month the government used its Queen's Speech to confirm it is pressing ahead with plans to bring forward a Planning Bill later this year to enact the reforms in the Planning for the Future white paper.
MPs on beauty
The Government's focus on beauty, whilst laudable, must not detract from other important aspects of design. The Government must ensure that its national design code, advice for local authorities about local design codes, and other aspects of design policy reflect the broadest meaning of design, encompassing function, place-making, and the internal quality of the housing as a place to live in, alongside its external appearance. Given the problems with defining beauty, and to ensure a wider approach to design, there should also not be a 'fast track for beauty'.
Many discussions about beauty and design are very localised, concentrating a specific site, building or street. We do not think these discussions can be incorporated into Local Plans covering an entire local authority. Therefore, the Government must clarify how the public will be able to offer views about developments at this small scale. This is doubly significant given the Government's proposed reduction in the opportunities for people to comment on individual planning proposals.
Source: The future of the planning system in England, House of Commons, Housing, Communities and Local Government Committee
.
ARCHIVE: Building Design's coverage of the design code includes responses from some of the profession's best thinkers
>> News story: Office for Place to be established within housing ministry as government says draft code will play central role in banishing 'ugliness'
>> David Rudlin: Writing exclusively for Building Design, David Rudlin, who worked on the new national model design code, argues it will give ammunition to planners
>> Julia Park: Will they prove strong enough to save our high streets?
>> Nisha Kurian & Holly Lewis: What happens when a community have different ideas about what their local design code should say?
>> Jas Bhalla: There are some fundamental issues the government must address before its new model design code can make any difference
>> Roland Karthaus: Government planning reforms are doomed to fail because they pit opposing goals against each other for reasons of expediency