Outline approval for buildings up to 55 storeys in height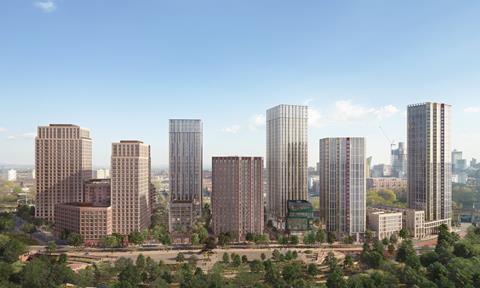 Two planning applications for 4,800-homes as part of Manchester's £4bn Victoria North regeneration project were approved yesterday.
Maccreanor Lavington secured outline planning permission for 3,250 homes in the new Red Bank neighbourhood north of the city centre.
Designed for a joint venture between Hong Kong developer Far East Consortium (FEC) and Manchester city council, the homes will be primarily for market sale and build-to-rent with 20% affordable housing and arranged in a series of blocks ranging from 8 storeys to 55 storeys in height.
The scheme is expected to deliver more than 160,000 sq ft of non-residential floor space commercial uses, a health centre, primary school, amenities and community spaces. It will also include landscaping, greenspace and wetlands. The application was developed by master planner Maccreanor Lavington, architect Shulze & Grassov with support from OP-EN and environmental consultant Useful Projects.
A second application, to build 1,550 homes and a new high street adjacent to the nearby Victoria Riverside scheme was granted full planning permission. This will see the construction of seven blocks varying in height from six to 34 storeys.
The application was created by Maccreanor Lavington in collaboration with Hawkins Brown.
Red Bank is one of seven neighbourhoods being regenerated as part of the Victoria North project which is expected to create 15,000 new homes over the next decade.
Hilary Brett, project director at FEC, said: "Red Bank is one of the most under-used areas in Manchester, but its proximity to the city centre and the existing natural assets of the River Irk and St Catherine's Wood make it the ideal location for a thriving new neighbourhood. "
Gavin White, Manchester city council's executive member for housing and development, said: "It's great to see the momentum continue for this part of the Victoria North programme. This area of the city centre has lain dormant for many years."