Stirling Prize winners among successful practices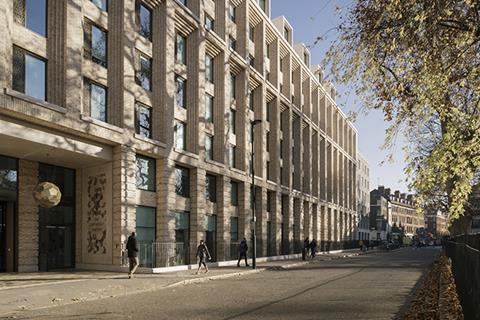 Haworth Tompkins, Architype, Maccreanor Lavington and Levitt Bernstein have all made it on to a four-year framework for one of the country's largest housing associations.
They are among 20 practices - and more than 50 consultants across eight lots - picked by One Housing for a new framework agreement which will run to 2022.
Mike Johnston, One Housing's group development director, said: "We are pleased to welcome so many consultants on to our framework. We have a significant development programme and anticipate delivering approximately 500 residential units per year focusing on London and its commuter markets."
One Housing owns and manages around 16,000 homes in London and the south east.
OHG Framework Consultants
Lot 1: Architects
ECD Architects, Alan Camp Architects, BPTW, PRP, Conran and Partners, Weston Williamson, Assael, PTAL, Pozzoni Architecture and Haworth Tompkins
Lot 3: Architects (specialist supported living)
Architype, Tooley & Foster Partnership, Tranter McManus Architects, Levitt Bernstein, Baily Garner LLP, Maccreanor Lavington, PRP, Pellings LLP, Hunters, Calfordseaden, Pollard Thomas Edwards
Lot 4: Employers agents
Rund Partnership, Aecom, Potter Raper, Robinson Low Francis, John Rowan and Partners, PRP, Baily Garner, BPP and Airey Miller
Lot 6: Employers agents (specialist supported living)
Rund Partnership, Potter Raper Partnership, Hunters, PRP Development Consultancy, Aecom, John Cobb Consulting, Pellings, Robinson Low Francis, Airey Miller and Philip Pank Partnership
Lot 7: Structural and civil engineers
Clancy Consulting, Curtins, Calfordseaden, Peter Brett Associates, Ellis & Moore, Heyne Tillett Steel, Tully De'Ath, Campbell Reith Hill LLP, Conisbee and Price & Myers
Lot 8: Mechanical and electrical engineers
AWA Building Service Consultants, Meinhardt, TUV SUD, Butler Young, Couch Perry Wilkes, Calfordseaden, Bailey Garner, Frankham, Troup Bywaters & Anders and EDP Consulting
Lot 9: Planning consultants
RPS, JLL, Spenthorpe, Boyer, BPTW, HTA, Lichfields, PBA, Barton Willmore, GL Hearn and QUOD
Lot 10: Valuers
JLL, Rapleys, Strettons, Copping Joyce and Robert Stirling