Farrells, Gbolade Design Studio and Exterior appointed by Southwark for design code trial
LDA Design has been asked by the Royal Town Planning Institute to produce research on how design codes in England can help the government achieve its net zero targets
The project, being conducted in partnership with the Royal Society for the Protection of Birds (RSPB), will look to stimulate thinking about how to use design codes to secure transformative change in the built environment's contribution to hitting the carbon targets and promoting nature recovery.
LDA will produce codes that specifically address climate, energy and biodiversity.
The firm is working with ecology consultants BSG Ecology and technology company City Science to produce two codes based on fictional towns.
The codes will cover net zero and nature recovery and be designed for use in conjunction with existing government guidance on design for site-specific development and district-wide development.
Richard Blyth, head of policy at RTPI, said: "With this research we want to contribute new ideas about how design codes can be used specifically to address the issues around climate change, energy efficiency and ecology."
LDA's findings will be published this autumn.
Farrells, Gbolade Design Studio and Exterior Architecture
Meanwhile Southwark council has appointed Farrells, Gbolade Design Studio and Exterior Architecture to prepare a design code for an area around Old Kent Road.
The project forms part of the government's National Model Design Code (NMDC) pilot and is the only one of its kind trialled on a site in London.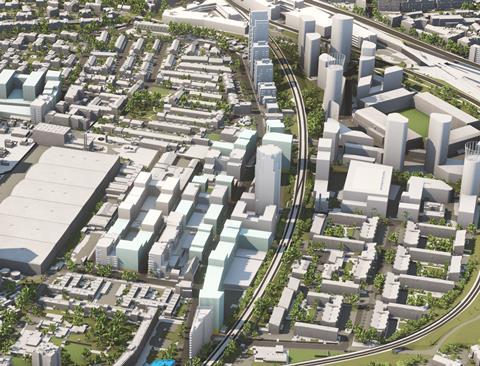 The scheme will also provide an additional level of design guidance for the Old Kent Road area action plan and is intended to be read as part of that plan helping to secure its delivery.
The six-month project has seen 14 councils in England chosen by the Ministry of Housing, Communities and Local Government (MHCLG) to apply the national code – which was designed by Urbed following a recommendation in the Living with Beauty report – in their area.
The aim is to test the use of design codes in helping deliver sustainable and well-designed developments.
The project team led by Farrells will use public exhibitions and consultations next month to engage the community. It will then produce a guide for the future development of a number of mixed-use, residential and industrial schemes.
This guide will address the design and scale of ground-floor frontages, reconcile the mix of industrial and residential uses and establish an approach to creating character in the landscape and public open space.
Vaughn Horsman, design director at Farrells, said: "Being part of the National Model Design Code pilot presents an exciting opportunity to establish the community's priorities and ambitions for the local area. We are committed to creating people-focused design and our team's extensive experience in community engagement and understanding of the local area will allow us to create a design code that reflects what residents want to see."