City fringe scheme to transform 1990s Inmarsat building into 36-storey office
KPF's proposals to transform the Inmarsat building on Old Street roundabout into a 36-storey office tower have been submitted for planning.
The City fringe scheme, designed for property developer Endurance Land, would insert a new core into the existing 1990s building at 99 City Road but keep the majority of its structure, including its foundations and basement.
The 154m-tall scheme would start construction once Inmarsat, a satellite telecommunications firm, moves to new premises next year.
No contractor for the project is known to be on a pe-construction services agreement. Planning documents say a builder will be officially appointed if the application is approved, which is expected this summer.
The project team currently includes structural engineer AKT II, Atelier Ten on MEP, Publica on public realm design, planning consultant DP9, townscape consultant Montagu Evans, Sweco on vertical transport, project manager Avison Young and cost consultant Arcadis.
The new tower would contain around 65,000sq m of office space and is intended to serve as a gateway to the City of London and a shot in the arm for Old Street roundabout's flagging tech cluster, known as "Silicon Roundabout" or "Tech City".
The area, named in reference to California's Silicon Valley, was heavily promoted by former prime minister David Cameron in the years following the 2008 financial crisis as a centre of British tech innovation.
But a number of high-profile firms have left the area in recent years to set up bases in other parts of the capital, including Google, which closed its seven-storey Campus startup hub last year.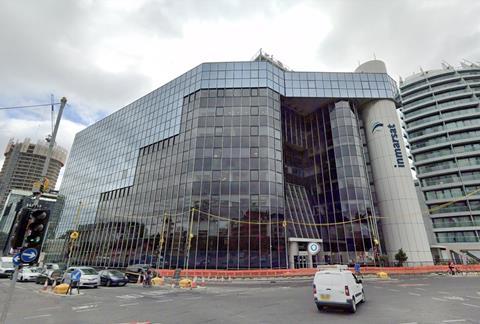 A tall building study carried out by Islington council in 2018 argued the site should become the "focal point" of the tech cluster and said any tall building would need to be of "outstanding architecture" that adds a "distinctiveness" to the area.
KPF says its plans would see a 274% increase in public realm compared to the current site, along with a new urban roof garden and 900 cycle parking spaces.
It would also include a 3,000sq ft triple height space on the ground floor, dubbed the "great room", which would be open to the street during the summer months and would host cultural events.
KPF principal Elie Gamburg said the design of the tower uses an innovative 'folding' approach to respond to the site's "diverse contexts at multiple scales".
"A careful emphasis has been placed on detail and material craft, to create a building that is sensitively scaled, its appearance changing as people move around and within it," he said.
The scheme's public square also aims to create a new 'arrival' point at the roundabout which leads off from Weston Williamson & Partners' new Old Street station, which is currently being built by contractor Morgan Sindall and is expected to open in 2024.
Other KPF office projects underway in the capital include a 23-storey life sciences tower in Canary Wharf which was submitted for planning earlier this month.
Its plans for another life sciences scheme, a 20-storey tower in Southwark, were approved in June this year by London mayor Sadiq Khan two years after being rejected by the local council.