Mayor's intervention comes as new data reveals demand fell by 40% last week
Sadiq Khan has called for the government to introduce temporary measures to help shore up housebuilding and protect tenants in the capital in the wake of the coronavirus outbreak.
London's mayor has written to housing secretary Robert Jenrick demanding he introduce further measures to support housing delivery when construction work is able to restart once social distancing measures are relaxed.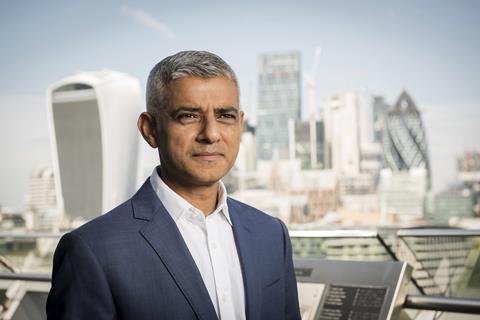 Khan said: "At this stage, I would request that you consider introducing temporary measures to grant maximum flexibility to the Greater London Authority to utilise funding provided by [the ministry of housing] via the affordable homes programme and land assembly, small sites and accelerated construction funds."
>> Webinar - sign up now - Covid-19's impact on construction: The legal view
>> Coronavirus and architecture: The latest
Meanwhile, new figures show that demand to buy homes fell by 40% last week.
Hometrack and Zoopla's latest monthly cities house price index found that demand fell by more than 40% in the last week as people have been asked to self-isolate in response to the covid-19 outbreak.
However, the data runs up to March 22 and therefore does not take into account the impact of the most recent "lockdown" measures imposed by prime minister Boris Johnson this Monday.
The report says: "Demand is set to fall further now the UK is moving into a 3+ week period of partial lockdown." The report also said that the number of sales falling through increased by nearly two-thirds in the same period.
It says that experience of previous economic shocks suggests that the volume of sales will be initially hit more severely than house prices themselves. The report predicts that sales will fall by around 60% in the second quarter of the year, with the collapse likely continuing into the third quarter.
It comes as four of the country's five biggest volume housebuilders confirmed they would be closing their sites.
His call comes at the same time as he reiterated his call for construction firms to shut sites in a bid to slow the spread of the virus. Yesterday Khan said that he had requested that sites be shut but been overruled by ministers who said construciton sites should carry on operating.
Barratt, Taylor Wimpey, Persimmon and Bellway have all said they are mothballing sites. Berkeley has said it plans to continue to operate.