US president to talk about the "historical context" of the 1998 Good Friday Agreement
US president Joe Biden is to deliver a keynote speech at Feilden Clegg Bradley Studios' Ulster University campus in Belfast this afternoon.
Biden touched down at RAF Aldergrove at 9pm yesterday evening at the start of a four day trip to the island of Ireland in the wake of prime minister Rishi Sunak's Windsor Framework agreement on the trade border between the UK and Northern Ireland.
The president, whose mother is of Irish descent, is set to use his speech to talk about the "historical context" of the 1998 Good Friday Agreement, which mostly ended sectarian violence in the region. It will not be watched by Sunak, who will jet back to Downing Street following a short meeting with Biden at 11am.
FCBS' £250m City Campus for Ulster University was completed at the end of 2022 after a 12-year development period. The project team also included local architect McAdam Design, engineers Mott MacDonald, project manager Currie & Brown, cost consultant EC Harris and transport consultant Atkins.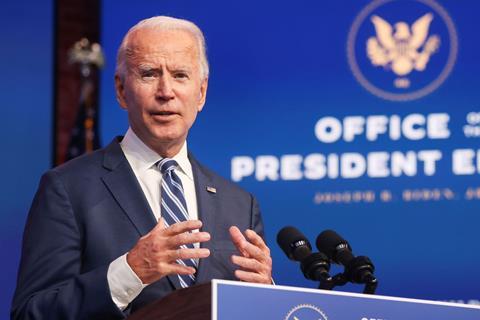 It has created 75,000sq m of space in the city centre of Belfast for 16,000 students and staff who have been relocated from the university's 1970s campus in the suburb of Jordanstown.
The 14-storey project, described by the practice as a "vertical campus", is located at the boundary between the city's divided protestant and catholic communities.
The university's community outreach director Duncan Morrow said its location puts the campus "in the heart of the intractable issues haunting Northern Ireland's growth, prosperity and identity."
Biden is expected to hold individual meetings with Stormont's main party leaders this morning. The president said his aim is to get the Northern Irish Assembly, which has been in deadlock since 2017, back up and running and "make sure the Irish accords and the Windsor agreement stay in place, to keep the peace".
He will fly to the Republic of Ireland later this afternoon where he will spend three days following the roots of his family tree, which include a visit to St Muredach's Cathedral in Ballina which was built with 27,000 bricks sold by his great-great-great grandfather.
Biden will also meet Irish President Michael D Higgins and Taoiseach Leo Varadkar, taking part in a tree-planting ceremony and ringing a peace bell, before addressing both houses of the Irish parliament and having a banquet at Dublin Castle.