Practice repurposes Make's 25-storey Albert Embankment resi towers after marketing flops
Jestico & Whiles is set to win approval next week for a hotel-led reworking of a residential scheme originally designed by Make.
Make's luxury scheme for the central London riverside site was consented in 2017. Jestico & Whiles' revised proposals were drawn up for property company Ocubis, following what planning documents described as "a difficult climate" for bringing forward the approved flats – in which "softening residential values and slow rates of sale" had affected the local market.
The design and access statement said Ocubis had marketed the proposals "extensively for over two years but received limited interest due to the significant existing supply of new housing in the vicinity".
It cited Foster & Partners' nearby Corniche development, David Walker and EPR Architects' The Dumont, and the Merano flats by RSHP and EPR as examples. All three are just along the Albert Embankment and were developed by Berkeley's St James brand.
Make first tried to build on the 0.19 ha site – currently occupied by a petrol station and convenience store – in 2008 when it submitted plans for a residential scheme that became known as the Shark Fin, only for it to be knocked back by planners the following year.
Lambeth councillors approved Make's second design in 2017 and have been recommended to approve Jestico & Whiles' hotel proposal – which has fundamentally the same appearance – at next week's planning committee.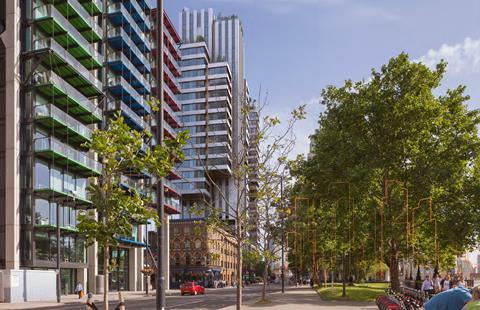 It would deliver up to 600 beds in two 25-storey towers. The scheme also involves the refurbishment of the neighbouring Vintage Works office building.
Recommending Jestico & Whiles' rework of Make's most recent scheme for approval at next week's committee meeting, planning officers said the updated proposals were "very similar" and would not have any additional impacts in terms of townscape, heritage, daylight and outlook.

"The proposed hotel building would be of a high quality contemporary design and it would contribute positively to the surrounding townscape," they said.
"The proposed development would sit comfortably within the context of the surrounding area and it is [officers'] opinion that it would not result in any harm to any heritage assets."
They noted that Lambeth has emerging planning policy designed to ensure that sites are not used to deliver visitor accommodation when they could be used to meet the borough's need for conventional dwellings, "especially affordable family homes".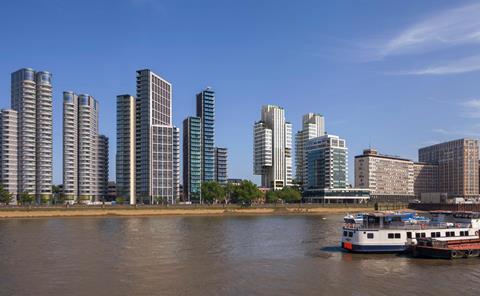 However officers said the policy had not been tested for soundness or officially adopted and could only be given "limited weight". They added that family housing would represent an under-use of the site, meaning that it would not be suitable in any case.
Lambeth's planning committee meets at 7pm on January 21.