National College for Advanced Transport and Infrastructure was set up in 2017 to provide skills for HS2
A college set up to provide skills for the construction of HS2 will close next month amid enrolment issues meaning it is teaching just 2% of the students it was designed to accommodate.
The National College for Advanced Transport and Infrastructure (NCATI) will stop direct delivery of further and higher education programmes by 31 July.
The college, which was set up by the government in 2017 as the National College of High Speed Rail, operates from two sites in Birmingham and Doncaster.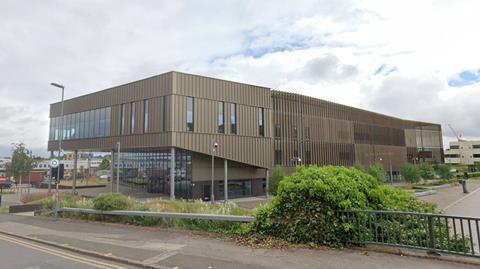 Part of the University of Birmingham Group, it describes its mission as "producing a new generation of highly skilled professionals to transform the UK's rail and transport industries".
But it has struggled with low intake, with just 49 students on its books and 119 apprentices. Around half of its students whose studies run beyond this academic year will transfer to other colleges, and 81 apprentices will move to other providers, NCATI said.
The decision to close the college comes after a consultation process on exploring alternative models of delivery based on collaboration with existing providers.
In a statement on its website, NCATI admitted the consultation was launched after it recognised that operations "could not be supported by the current business model".
Interim principal and chief executive Lowell Williams said: "The NCATI Board, with support from the University of Birmingham, has resolved to discontinue the direct delivery of its further and higher education programmes, and to wind down the college by 31 July 2023."
He added: "Unfortunately, we have been unable to identify a sustainable future for NCATI as a direct deliverer of education, and therefore we have made the difficult decision to discontinue delivery of learning."
The move means voluntary severance applications received from staff during the consultation process will now be followed up, with staff expected to leave the college by October.
Lowell said: "On behalf of the board, I would like to say how very much we regret the outcome of the consultation process.
"I wish to extend my sincere thanks to all our staff for their continued professionalism, support and commitment to our learners and their fellow colleagues, in what has understandably been and will no doubt continue to be a period of uncertainty."
In a post on LinkedIn, Construction Products Association economics director Noble Francis blamed the government for the closure.
"The government's persistent delays and failure of delivery in the rail infrastructure sector have real consequences," he said.
"Government can spend millions on new, stylish facilities for training young people to build high-speed rail, but if the government doesn't deliver on its announcements of projects then companies cannot commit to investing in people, so it all just gets wasted and has to close."
He added: "Government likes to grab headlines when multi-million pound facilities are announced and then when they are opened but it goes very, very quiet when they have to close and, in particular, when it is their own fault."
The Education and Skills Funding Agency, a Department of Education body, has expressed a desire for NCATI's buildings to remain an asset for the rail industry.
NCATI said it is working with the ESFA and local authorities to determine the future use of the buildings.