Government set to roll back pledge to ban new gas boilers by 2030 and set tougher energy efficiency targets for landlords
Industry experts have reacted with dismay to reports that the government is expected to U-turn on several key net zero targets including a ban on gas boilers.
Rishi Sunak is set to water down key green policies on phasing out new gas boilers by 2030, tougher energy efficiency rules for landlords and a ban on new petrol and diesel cars, according to several national newspapers and broadcasters.
Years of Conservative policy on decarbonising buildings has focused on using the 2030 deadline for boilers to stimulate the market for heat pumps, with a target to install 600,000 of the devices a year by 2028.
UKGBC deputy chief executive Simon McWhirter said the U-turn would be "beyond disappointing" if confirmed by Sunak.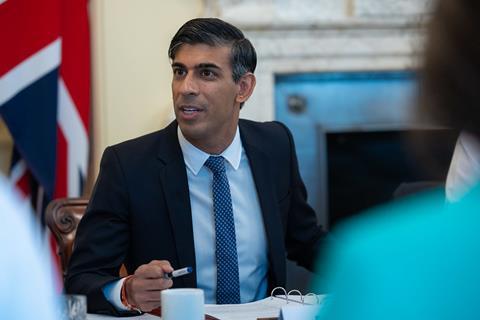 "It's damaging to the industry who were scaling up for these changes, and this package of net zero delays will be doubly destructive to our climate. Buildings are the second biggest source of climate emissions in the UK. We can't keep burning fossil fuels to heat our homes and meet our legal climate targets."
He added that other countries such as France are working much faster to install heat pumps, while the government's heat pump subsidy scheme has been sluggish but could be massively enhanced.
A report in June by the Climate Change Committee, the government's net zero watchdog, found the UK had one of the slowest heat pump installation rates in Europe despite a government promise to make the UK a world leader in the market.
McWhirter said the volte face would be a "real blow to the green business, investment and quality jobs that must be at the heart of our country's future as we rebuild.
"We know from other technologies that if government sets a target, industry will skill up and scale up, confident there is a market."
He added that rolling back plans to improve the energy efficiency of rented homes would be "environmentally reckless and economically damaging".
Ashok Sinha, chief executive of climate charity Ashden, said: "If the PM wanted to do maximum harm to the UK economy, then this would be the way to do it.
"The green transition is not only necessary to prevent catastrophic environmental impacts but it's the only way to secure our country's future prosperity.
"Putting us into the slow lane in the race to net zero will only scare off investors, damage our credibility with business and put the brakes on the climate innovation that we see growing in SMEs and communities across the country.
"This will only hurt jobs, livelihoods and living standards."
Federation of Master Builders chief executive Brian Berry said scrapping the targets would be "symptomatic of a trend of stop-start energy efficiency policies which have left both consumers and builders confused".
"Consistency is key to achieving net zero and reducing carbon emissions," he said, adding: "The government should at the very least stick with current plans to improve our leaky, draughty homes and ensure future homes are fit for the future, so that businesses have a clear plan to work towards.
"Changing policy will only discourage investment and damage consumer confidence in the journey towards lowering emissions."
Shadow home secretary Suella Braverman defended Sunak this morning for taking a "pragmatic approach" on climate policy and suggested the existing targets were "totally uunrealistic" and akin to "straightjackets".
She told Times Radio: "Ultimately we have to adopt a pragmatic approach, a proportionate approach and one that also serves our goals and we're not going to save the planet by bankrupting the British people."
She said: "We need to make sure these targets are achievable. We need to make sure whatever goal we set it going to be affordable, it's going to be sustainable and ultimately that it's deliverable.
"We don't want to set targets which are totally unrealistic and punitive."
Braverman argued that "the costs of achieving some of these arbitrary targets has to be taken into account. These goals are just that, goals, not straitjackets".