New plans submitted for grade I-listed Clifford's Tower – minus shop and visitors' centre
English Heritage has lodged new proposals to update visitor facilities at York's grade I-listed Clifford's Tower – 18 months after deciding not to proceed with the most controversial element of earlier plans.
In 2016, Hugh Broughton Architects won planning for a scheme to install a timber viewing structure inside the 13th-century building and for a shop and visitor centre to be constructed in part of its mound.
But despite the approval of York council, the scheme was unpopular with residents and was even – unsuccessfully – challenged in the High Court, prompting operator English Heritage to withdraw the proposals.
The latest incarnation of the scheme removes the excavated shop and instead proposes the installation of new handrails on the steps up to the tower, new resting places, and the siting of a three-wheeled vehicle at the base of the mound, from which English Heritage would operate.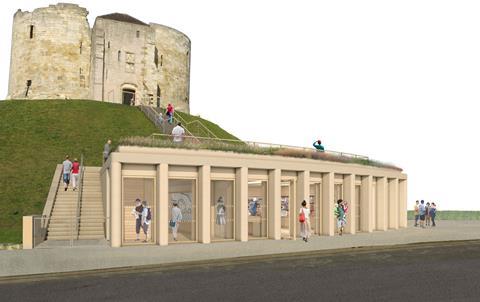 The charity said the internal walkways and roof deck proposed in the latest application were in line with the earlier planning consent and would be built in a way that helped to protect the tower's historic stonework and gave visitors unrivalled views of the York skyline.
>> Also read: High Court dismisses York tower challenge
North of England director Andrea Selley said the latest proposals were the result of 18 months' consultation with key stakeholders.
"Clifford's Tower is one of the most important historic sites in York, and English Heritage is committed to investing in the site in a way that protects its historic fabric and improves the experience of those visiting," she said.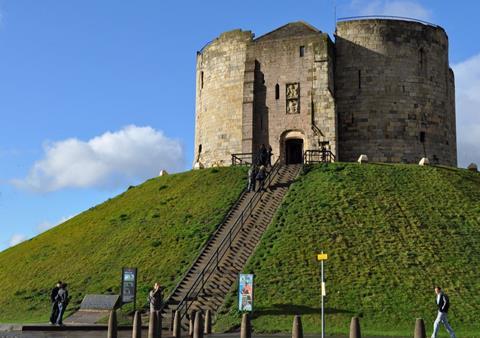 "These new proposals balance protecting the tower, providing much-needed improvements, and respecting the visual appearance of the tower."
Selley said a decision on the latest plans was expected from the city council within three months and that a separate application for scheduled monument consent would also be required before work could begin.
The 2016 Hugh Broughton proposals