Art deco-inspired build-to-rent scheme is collaboration with Plus Architecture
Howells has revealed images of its first project in Australia: a 264-unit build-to-rent development in Perth that has been designed in conjunction with Plus Architecture.
The 26-storey 200 West Coast Highway scheme was created for real-estate development group Meadpoint. It features a "pinwheel-shaped" floorplan that disperses the built form into four volumes radiating from a central core.
Howells and Plus said the ocean-facing development's innovative design made for a "visually unobtrusive street presence" and increased setbacks on all sides.
Howells partner Dav Bansal said 200 West Coast Highway was a typology "unique to Perth" that was focused on tenant experience and a "pathway to zero carbon".
"The pin-wheel arrangement of the building offers cross ventilation circulation and dual-aspect vented homes, wrapped in a modern art deco-inspired façade echoing the local seaside architecture," he said.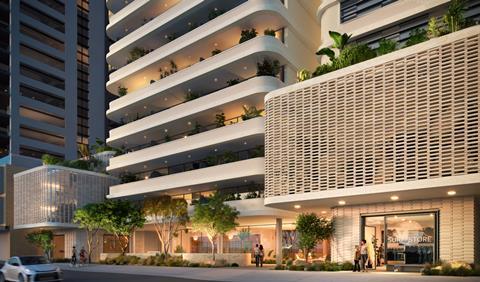 "The articulation of the four elements reinforces the plan with generous balconies to provide private amenity and much-needed shading to the homes."
Bansal said the tie-up with Plus Architecture allowed Howells to bring its extensive build-to-rent know-how to deliver more affordable housing in Western Australia. He predicted the collaboration would continue.
Plus Architecture director Will Schofield said 200 West Coast Highway had been designed to encourage residents to make "meaningful connections" with the community and businesses in the suburb of Scarborough.
"The development acts as a complement and conduit to the city, bolstering local trade and adding to Scarborough's vibrant character," he said.
Howells and Plus said their plans for 200 West Coast Highway had now been lodged with the local authority and a decision was expected by September.