News comes as Michael Gove announces city will be one of three new regional innovation hubs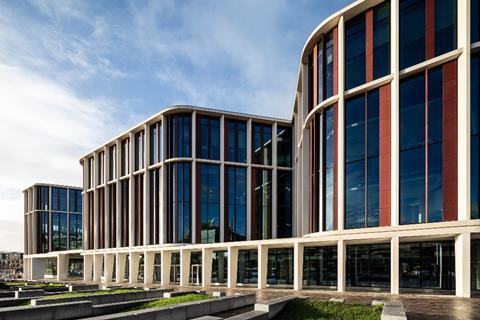 HOK has completed a 16,000sq m research facility at the University of Glasgow's Gilmore Hill campus.
The Advanced Research Centre (ARC), which will eventually house around 500 academic and student researchers, is intended to be the centrepiece of the university's grounds.
It comes as the government's levelling up white paper promised to increase public investment in R&D outside the south east by at least 40% in the next eight years.
The white paper also announced the Glasgow-City Region will be the focus of one three new innovation accelerators that will see local businesses and researchers backed by £100m of new government funding to turbo-charge local growth, learning from the MIT-Greater Boston and Stanford-Silicon Valley models in the US. The others will be in in Greater Manchester and the West Midlands.
HOK said inspiration for the ARC building was drawn from the existing campus, the Gilmore Hill campus masterplan and surrounding historic buildings. It features a civic-scale frontage with varied terracotta panels and fins set within a cast stone frame.
Researchers, technicians and post-graduate students have started to move in. They will come from all four university colleges: social sciences, arts, science and engineering, and medical/veterinary and life sciences.
This is the first time the university has attempted to co-locate such a diverse mix of interdisciplinary researchers in one facility, it said.
Gary Clark, HOK's regional leader for science and technology, said: "To solve today's greatest challenges, universities must incorporate their local communities, nurture ties with industry to foster research and innovation, and encourage interdisciplinary collaboration among students and faculty from diverse backgrounds.
"The Advanced Research Centre accomplishes these goals by combining informed design with the latest insights into problem-solving and teamwork."
Andrew Tobin, University of Glasgow professor and director of the ARC, said: "Through the ARC we are attempting something disruptive and hugely exciting - an evolution in how we operate as a research-intensive university. The building has been specifically designed to support this ambition."