£125m seafront scheme at Morecambe could open in 2024 if funding is secured
Grimshaw Architects' plans to build a sister attraction to Cornwall's Eden Project on the seafront at Morecambe have won consent from Lancaster City Council.
The practice's Eden Project North proposals have been under development for several years and its first designs for the scheme were revealed in autumn 2018. But plans for the project – which will be a stone's throw from the grade II*-listed Midland Hotel and the town's grade II* Winter Gardens – were only lodged for approval in summer last year.
Grimshaw's vision is earmarked for the site of a former leisure centre and will focus on four shell-like domes constructed from timber and covered in a flexible transparent membrane with integrated solar cells. The structures will be set in a "dunescape" of landscaped roofing planted with coastal vegetation.
The domes will be up to 37m in height and feature a range of visitor space and education facilities focused on the natural environment, including an immersive attraction looking at life below the bay and a counterpart looking at rhythms of life connected with the sun.
A report by city council planning officers said the attraction would provide around 17,186sq m of internal space at the 4.6ha site, including space for restaurants and cafés.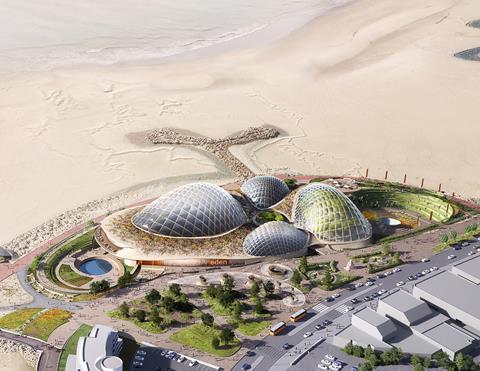 The report acknowledged that the regeneration and development of the site would result in a "marked change" from its current condition and that the proximity of the attraction would "undoubtedly" affect the standalone setting of the Midland Hotel, completed in 1933 to "streamline moderne" designs by Oliver Hill.
However planning officers said neither government heritage advisor Historic England nor the authority's own conservation officer had objected to the proposals and that Eden Project North was expected to make a positive contribution to the town's conservation area on balance.
They added that Eden Project North would create around 400 jobs and provide visitors with a different offer to its sister attraction in Cornwall, which they said had added around £1.7bn to the local economy in the two decades it has been open.

Grimshaw partner Jolyon Brewis said councillors' decision to grant planning permission for the project paved the way for the construction of a "landmark destination of national and international significance".
Eden Project International chief executive David Harland said the scheme was "shovel ready", pending government support in the region of £70m towards the total project cost.
"A compelling financial case has been made to government," he said. "We are primed and ready to create this beacon to a green and sustainable future, be part of levelling up and drive economic and social enhancements across the region.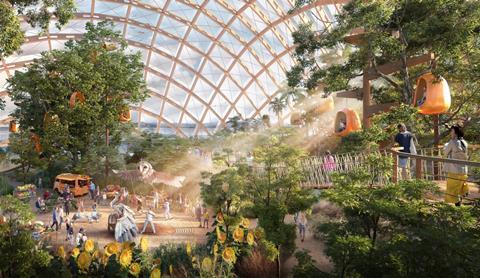 "While we are incredibly proud of what we and our partners have achieved so far, we now need UK government support to quickly bring this to fruition and maintain momentum."
Planning officers said the estimated build time for the attraction was two years.
The project team for Eden Project North includes project manager Trivandi, structural engineer Schlaich Bergermann Partner, MEP and environmental engineer Buro Happold, and cost consultant Rider Levett Bucknall.