Scheme will create 110,000ft2 of new office space close to King's Cross station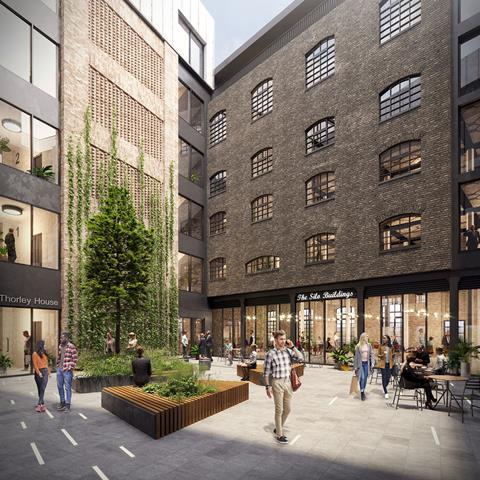 Hawkins Brown has been given the green light to convert five locally listed warehouses near London's King's Cross station into offices.
The scheme, which was granted unanimous resolution to approve by Islington council, will be located at Regent's Wharf on the south side of Regent's Canal.
Designed for real estate investors Welput and fund managers Bentall Green Oak, it will also include a new-build office called Thorley Works, a nod to the 19th century warehouses' original occupier, Joseph Thorley.
Combined, the new office and warehouses will create 110,000ft2 of office space, 16,500ft2 of gardens and a central public courtyard.
Located in a former industrial area within the Regent's Canal conservation area, it will be close to the western entrance of the 878m long Islington tunnel, which opened in 1818.
The designs include hand-painted signage inspired by historic photographs of the original Victorian industrial advertisements that were on the warehouse silos and packing house.
Construction is due to start on site later this summer with completion scheduled by the end of 2022.
In June, Hawkins Brown won an international design competition to replace Farrells as masterplanners on the vast 10ha Earls Court redevelopment project, the biggest development site in central London.
It was followed by another win earlier this month when the architect was picked to design an extension to the Evelina London Children's Hospital in Lambeth.