Practice lops storeys and flats from housing development
Above: Broadway Malyan's Hove plans in 2019
Broadway Malyan has won planning permission for a 152-home scheme in Hove after dropping the height of the tallest of the project's four blocks, and reducing the number of units.
The practice last year lodged plans for 163 new homes and 1,000sq m of commercial space on the site of the Peacock Industrial Estate, half-way between Brighton and Hove stations. The proposals were reworked after initial feedback.
Its original scheme – named Lyon Close and designed for Crest Nicholson – comprised a single-storey podium with undercroft parking and blocks of five to 10 storeys above, but the proposals were reworked to range in height from six to eight storeys. Although the new homes count has reduced by 11, and the office space has been cut to 697sq m, the approved scheme includes two additional live-work units.
Below: Broadway Malyan's Hove plans in 2018
Recommending the new proposals for approval, Brighton & Hove city council planning officers said the reduced height of the tallest block reflected concerns expressed in consultation that the original scheme was overbearing.
They said that at eight storeys the scheme's tallest element would be "comparable" to the height of the main bulk of the nearest tall building to the east, while the "set back" location of the application site would mean it would "not be highly prominent" in most other views.
Broadway Malyan director Stuart Bertie, who led the project, said the scheme would create "a calm and green oasis" within the existing townscape.
"The development uses a simple but distinct architectural language with a restrained palette of brick and metal detailing, which references the ordered facades of Hove's Regency heritage architecture," he said.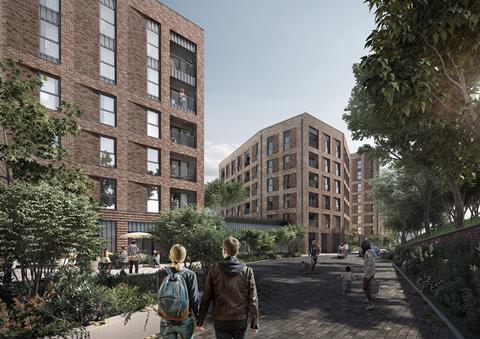 "The building orientation maximises views through the extensively landscaped gardens, which are accessible from each of the residential buildings and will include a dedicated children's play space.
"The landscape itself is an archipelago of planted islands which creates a pedestrian-focused environment, guiding movement and forming safe, usable spaces.
"The design includes much-needed office space and live/work opportunities that will bring additional vibrancy to the development."
The scheme's new homes break down to 21 studio flats, 49 one-bed flats, 76 two-bed flats, and eight three-bed flats.
Brighton and Hove said 10% of the scheme's homes would be "affordable" – equating to 16 units that would be available for shared ownership.