Consultation on reforming local plans among measures to remove supply bottleneck
The housing secretary has announced plans for a huge expansion of the urban realm in Cambridge as part of a government plan to densify the UK's cities.
Speaking in Kings Cross at the launch of his new "long-term housing strategy", Michael Gove revealed that he had appointed Homes England chair Peter Freeman to lead a new Cambridge Delivery Group, backed by £5m, which will scope work for a major redevelopment of the UK's tech capital.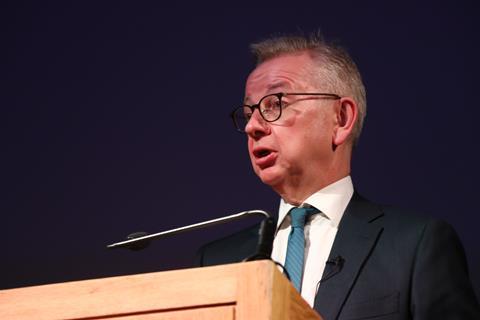 Gove said that the city's future potential had been "circumscribed by a lack of new space for lab capacity" and constraints on new housing, allowing innovation hubs in other countries to benefit at its expense.
"We're going to develop a vision for Cambridge, a vision that will involve growing beautiful, integrated neighbourhoods, and healthy communities, while supercharging innovation and protecting green spaces," he said, outlining a vision for what the city could look like in 2040, including a new urban quarter and a new transport network to connect it with the rest of the city.
"Imagine a major new quarter for the city, built in a way that is in keeping with the beauty of the historic centre – one shaped by the principles of high quality design, urban beauty and human scale streetscapes emulating the scale and quality of neighbourhoods such as Clifton in Bristol or Marylebone in London, with a high proportion of affordable homes and other properties set aside for key workers and young academics," he said.
Precise details of the redevelopment were not forthcoming, with the secretary of state explaining that it would be up to Freeman and his team to decide "how big expansion in Cambridge can be".
The plans drew the ire of one local representative before they had even been announced. Anthony Browne, the Conservative MP for South Cambridgeshire, said he would do everything he could to stop the government's "nonsense plans to impose mass housebuilding on Cambridge".
He noted that all major developments in the city were blocked by the Environment Agency because the city had "quite literally run out of water".
"There is not enough water for existing housing; there is not enough for the major expansion of housing already planned; and there is not enough for any government plans for a new quarter," he said.
"Unless the government can say where the water will come from, its plans are dead on arrival."
The Cambridge plan is part of a wider housing strategy outlined by Gove, focused on regeneration and densification across 20 English towns and cities based on the so-called "Medici model", outlined in his 2021 levelling up white paper.
Gove's speech outlined a range of measures – many of which have already been announced – that the government is enacting to unlock the supply of sustainable and attractive housing in city regions.
This included a review into the extension of permitted development rights, the launch of a £24m planning skills delivery fund and the establishment of a new "super squad" of expert planners, who will first be deployed in Cambridge to "turbocharge" the government's plans for the city.
One new announcement was the promise of a consultation on reforming local plans to make them simpler, shorter and more visual, to show communities more clearly what is planned in a particular area so that they can engage more effectively,
The housing secretary also used the speech to criticise London mayor Sadiq Khan for an alleged failure to build new housing at scale in the UK capital.
He said that the city needed to emulate the approach that Margaret Thatcher and Michael Heseltine took to the London Docklands in the 1980s.
"We are planning to intervene, using all the organs of government to assemble land, provide infrastructure, set design principles, master plan over many square miles and bring in the most ambitious players in the private sector to transform landscapes, which are ripe for renewal," he said.
"Our ambition in London is a Docklands 2.0 – an eastward extension along the Thames of the original Heseltine vision, taking in the regeneration of Charlton Riverside and Thamesmead in the south, and the area around Becton and Silvertown in the north, tens of thousands of new homes can be created."