Following his attempt to block the Tunbridge Wells scheme, the housing secretary is set to make a decision on planning applications in Leamington Spa and East Cheshire
Michael Gove, the secretary of state for Levelling Up, Housing and Communities, has intervened in two further planning applications on design grounds according to documents seen by Building Design's sister title Housing Today.
Following Gove's attempt to block a 165-home Berkeley Homes scheme in Tunbridge Wells, Kent, on the grounds that the design was "generic" – a controversial decision he looks set to rethink – the secretary of state is set to make decisions on housing developments in Leamington Spa and Cheshire.
According to a letter shown to Housing Today, Gove has called in a planning application by Delta Planning on behalf of AC Lloyd Homes for a residential development of 200 dwellings on the south side of Chesterton Drive, Whitnash, Leamington Spa. Such a move normally only happens if the application conflicts with national policy or is nationally significant.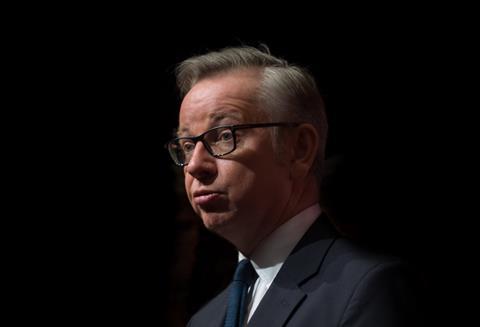 The letter states the secretary of state "particularly wishes to be informed about for the purposes of his consideration of the application… the extent to which the proposed development is consistent with government policies for achieving well designed places."
It goes on to request information regarding "the extent to which the proposed development is consistent with the guidance on design set out in the National Design Guide (2021) and the National Model Design Code (2021)."
The letter states that Gove will hold an inquiry to determine the outcome of this planning application, with a decision yet to have been made.
Another letter, also seen by Housing Today, contains details of a recovered appeal regarding a planning proposal by Muller Property Group for 150 units on five hectares of land south of Old Mill Road, Sandbach in East Cheshire.
A recovered appeal is one that, instead of a planning inspector making the decision, he or she will write a recommendation and this will then be passed to the secretary of state to make the decision, taking into account the inspector's decision.
Only a small percentage of planning appeals are decided by the secretary of state, and most of these cases are because the development is large or controversial.
The letter states: "The reason for this direction is that the appeal involves proposals for residential development of over 150 units or on sites of over five hectares, which would significantly impact on the government's objective to secure a better balance between housing and supply and create high quality, sustainable, mixed and inclusive communities."
While not explicitly stated in the letter, Housing Today understands that Gove's concerns regarding the Sandbach development are also on design grounds.
Colin Muller, founder and chief executive at Muller Property Group, told Housing Today: "There can be no grounds under the planning system for Michael Gove as secretary of state to jump into [this] scheme.
"Two previous senior inspectors have granted outline planning permission and detailed planing permission on this site. And all of the issues of character, design, appearance aesthetics and quality of the scheme had previously been in front of [inspectors]. So I can only assume that somewhere the secretary of state has got a radar tuned to any appeal that has any design narrative in the reasons for refusal or appeal. And I think that's what's happened here.
"We are diligently preparing for our appeal [due at the end of September] and we will present in front of the inspector all of the evidence that has been in front of previous inspectors who have approved that evidence, and we will also present new evidence as to why our scheme is appropriate, and why it is perfectly capable of being consented. There are no issues of substance, purely matters of minor detail."
Housebuilding looks set to be a key campaign point for political parties in the run up to the general election, with Labour having reportedly set out its plans to reform compulsory purchase order laws in a bid to reduce costs for developers and secure housing targets.
Meanwhile, proposed changes in the Levelling Up and Regeneration Bill currently going through parliament will require every local planning authority to produce a design code for its areas. These codes will have "full weight in making decisions on development".
Tunbridge Wells and East Cheshire are both safe Conservative seats, while Warwick and Leamington have had a Labour MP since 2017 but has historically been a Tory stronghold.
Steve Turner, director of communications at the Home Builders Federation, the representative body of the housebuilding industry, suggests Gove's planning interventions may be "clever politics".
"When capitulating to NIMBY backbenchers on national planning policy the government argued the need to move away from a 'top-down' system to one that asks councils to plan in accordance with local housing needs," Turner told Housing Today.
"On the other hand, the secretary of state is personally intervening to block developments that the local authority actually wants to see go ahead. Regardless of the supposed aims the outcome seems to always be the same: fewer new homes built.
He added: "This may be clever politics but the long-term social and economic consequences will be huge."
Delta Planning and AC Lloyd Homes declined to comment, as did Warwick District Council, East Cheshire Council, the Department for Levelling Up, Housing and Communities Press office and Planning Inspectorate.