East London scheme is Ballymore's third in the area
Glenn Howells and Hal Architects have submitted plans for a 1,610-home mixed-use development fronting the Thames in east London.
The scheme, designed for the former Thames Road Industrial Estate in the Royal Docks, proposes the homes in a combination of three-storey townhouses alongside blocks ranging from six to 18 storeys.
In addition to the homes, the Ballymore project is set to provide a new river-front park, community facilities, industrial and commercial space and a primary school.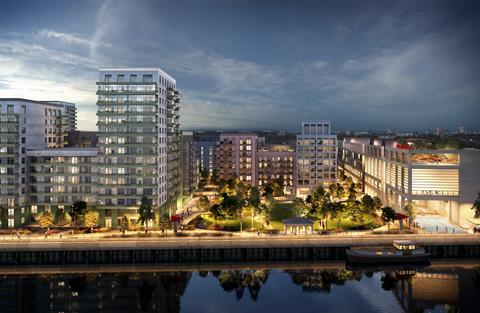 The site, currently occupied by several industrial warehouses, was identified as suitable for mixed-use development in the Newham local plan 2018.
The scheme follows on from Ballymore's delivery of the Royal Wharf and Riverscape developments, also in Newham. Construction of the scheme, subject to planning, is anticipated to begin in 2023, with Ballymore aiming to complete the project in 2027.
John Mulryan, group managing director at Ballymore, said: "As well as providing much-needed new homes for London, our vision is to create an area that excites and inspires, opening up the riverfront for everyone and forming a vibrant, dynamic and amenity-rich new neighbourhood."