Project is Foster & Partner'sthe practice's third Apple store in China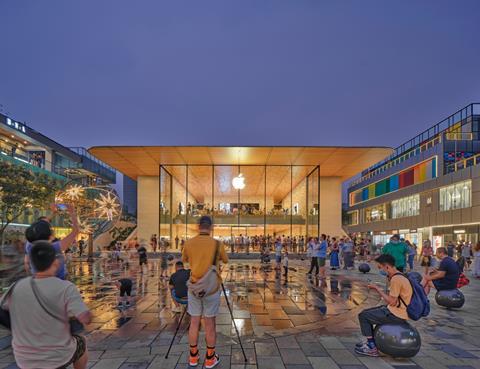 An Apple store designed by Foster & Partners has opened its doors in Beijing.
The new store relocates Apple's first store in China, built in 2008, to a more prominent site adjacent to the original store while doubling its size.
Fronted by a 33ft high glazed facade, the store is situated on a busy public square in Sanlitun, a shopping and entertainment district.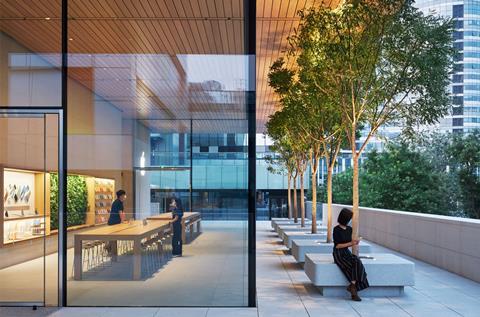 Two staircases on either side of the building lead up to a second storey outdoor seating area lined with sophorica japanica, the official tree of Beijing.
Inside, the shop floor is clad in pale grey Padang stone from Shandong province with leather upholstered seating forming a viewing gallery looking out on the square outside.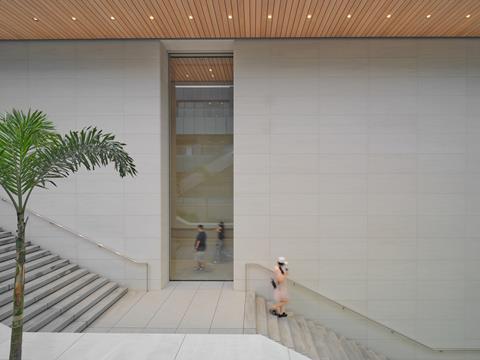 The large overhanging roof, designed to shelter shoppers from Beijing's frequent heavy rain and summer sun, is topped by 390sq m of photovoltaic panels, while tuned mass dampers within the building's structure protect the cantilevered upper level from earthquakes.
It is Foster & Partner's third Apple store in China, after the 2015 Westlake store in Hangzhou and the 2018 store in Macau, which features a two-storey bamboo grove at its centre.
The practice does a significant amount of work with Apple.