Computer shop now due to open in 2021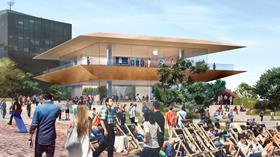 Plans to demolish part of Melbourne's landmark Federation Square to make way for a new Apple store designed by Foster & Partners have been pushed back by a year.
Federation Square's annual report reveals construction is now a year behind the original schedule.
When announced last year, work was expected to begin in early 2019, with the store to open in 2020. Now work will start in 2020, with the store opening in 2021.
A move by Heritage Victoria to recommend the 2002 civic space - designed by the UK's Lab Studios - be added to the heritage register is thought to have delayed the project.
The Heritage Council is still considering the recommendation, with submissions closing later this month.
The scheme - which requires the demolition of the Yarra Building - has faced intense public backlash since it was first announced in 2017, leading to Fosters releasing a revised vision of the scheme in July.
Even if Fed Square were added to the heritage register it would not stop the Yarra Building being demolished but could add an extra layer of difficulty for Apple.
There was some good news for Foster's scheme. Victorian premier Daniel Andrews, who was re-elected last week, told Melbourne-based newspaper The Age he still supported the project.
Andrews said: "My position has always been: 'Do we really want this thing to go to Sydney and all the jobs and all the opportunities that come from it?' That's not my view."
Despite this, two ministers who drove the Apple plan in Andrews' first cabinet, John Eren and Philip Dalidakis, either quit or were demoted to the backbench since the election.