Strong international shortlist revealed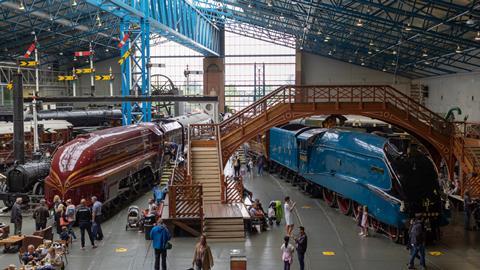 Carmody Groarke and Feilden Fowles have been shortlisted in the competition to create design concepts for a new Central Hall at York's National Railway Museum.
Heneghan Peng and 6a, working with Office Kersten Geers David Van Severen, are also on the shortlist.
Seventy-six teams from 19 countries entered the open two-stage competition to create a 4,500sq m space bridging the gap between the National Railway Museum's two main exhibition halls for the first time.
Karen Livingstone, director of masterplan and estate at the Science Museum Group, said: "We were delighted and impressed by the strongly international response to the design competition.
"The shortlist is a refreshing, highly original list of accomplished studios known for their flair with cultural projects and we await with interest how they will respond to our brief in the second stage."
The project, with a £16.5m construction budget, will create a new entrance, reception spaces and a 1,000sq m gallery.
It is part of a wider £55m project whose aim is to strengthen the museum's physical presence and identity. It will become the cultural anchor for York Central, one of the largest city centre brownfield regeneration projects in the UK. The 45ha site, which is dominated by old railway infrastructure, has outline planning to be turned into a residential and business district.
Competition director Malcolm Reading said: "This is a very encouraging moment for architecture in the UK: a diverse set of exemplary small to medium-sized practices given the opportunity to compete for a commission that will be emblematic for this national museum and York itself."
The shortlist was chosen from submissions based on past experience and team composition. The finalists will visit the site this month and will have three months to develop design concepts. These will be displayed in a public exhibition in February 2020. The winner is expected to be announced in March 2020, with the project due to complete in 2025.
The jury included Livingstone and Reading, plus Mary Archer, chair of trustees at the Science Museum Group, Ian Blatchford, the group's chief executive, Gitta Gschwendtner, director of a design consultancy, Zoe Laughlin, director of the Institute of Making, and Judith McNicol, director of the National Railway Museum.
Shortlist
• 6a architects (UK) and Office Kersten Geers David Van Severen (Belgium)
• Atelier d'Architecture Philippe Prost (France)
• Carmody Groarke (UK)
• Feilden Fowles (UK)
• Heneghan Peng architects (Ireland)