The social housing in England regulator denies that aerated concrete is likely to be prevalent in social housing
A type of lightweight concrete behind the closure of 100 schools is not likely to be "widespread" in social housing, according to the English regulator of social housing.
Consultants have warned that the panels made from reinforced autoclaved aerated concrete, better known as RAAC, may have been used in social housing built in the 1950s to 1970s.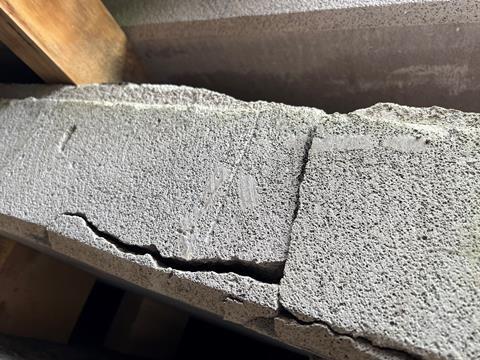 A spokesperson for the Regulator of Social Housing (RSH), however, has said the watchdog does not believe RAAC to have been widely used in social housing in England.
"We're currently engaging with relevant experts and sector stakeholders, and our initial conversations with them suggest that they believe RAAC is not widespread in social housing," a spokesperson for the RSH told Building Design's sister title Housing Today.

So far there have been no reported incidents of any RAAC failures in residential buildings. However, the Local Government Association has advised members to check whether any buildings in their estates have RAAC.
The RSH said it is the responsibility of housing associations and local councils to "make sure the homes they provide are safe."
An RSH spokesperson said: "We expect social landlords to understand the condition of their buildings, take action where they find problems, and communicate effectively with tenants where necessary. Any social landlord with concerns about RAAC should seek specialist advice."
The Department for Levelling Up, Housing and Communities said the government had "acted decisively to tackle" RAAC, pointing out that "the professional advice from experts on RAAC has evolved over time, from advice in the 1990s that RAAC did not pose a safety hazard to more recent advice on identifying and assessing structural adequacy."
The DLUHC declined to comment specifically on the risk of RAAC within social housing.
Commenting on the issue as a whole, the DLUHC said it had been "surveying properties and, depending on the assessment of the RAAC, decided to either continue monitor the structure, reinforce it or replace it."
However, Housing Today understands the advice for social housing providers is that they, not the DLUHC, are responsible for spotting any potential RAAC issues within their buildings.
According to Victoria Moffett, head of building and fire safety programmes at the National Housing Federation (NHF), housing associations are already "assessing their buildings for the presence of RAAC on a risk-basis, ensuring buildings most likely to have it are considered first."
"As we learn more, the NHF will work closely with the government to ensure housing associations have the tools they need to ensure residents' safety," she added.
A spokesperson for housing association giant L&Q said it was "too early" to be able to answer questions about the extent of RAAC usage in social housing.
L&Q did say that members of the G15 (an organisation representing the largest housing associations) "are considering their response and undertaking appropriate analysis based on the information recently released by the government."
RAAC is "not so common" in housing, according to James Porter, partner at Rapleys and head of London and Cambridge building surveying. The firm has come across it in housing, however, and is working with one major housing association to look at their portfolio.
"All the heat is on the schools but other sectors are looking at this now," Porter told Housing Today.
"What I would say is that five years ago, people were not looking for this as a deleterious material. During an inspection, you would see a precast concrete plank roof and you'd move on. There was no advice. It wasn't a problem people were looking for."
"I would think that any block of housing built postwar with a flat roof needs to be looked at"
Construction Products Association chief executive Peter Caplehorn said he does not believe RAAC to be widespread in post-war housing estates as these were typically built onsite using concrete reinforced frames.