Transport for London publishes final project financials
Details of what Heatherwick Studio was paid for the ill-fated Garden Bridge project have been made public.
Around £2.8m of payments were made to groups associated with Heatherwick Studio, which was the lead design practice for architecture on the controversial £175m project.
The scheme was binned 18 months ago after then-new London mayor Sadiq Khan decided no more public money be lavished on the project.
The studio itself was paid £52,425 directly by TfL prior to the Garden Bridge Trust - the charity given the job of building the bridge - took over responsibility for the project.
A second entity labelled as "Arup-Thomas Heatherwick" received two other payments totalling £2.7m.
These consisted of one payment from TfL of about £1.6m and another £1.1m payment from the trust.
The details of how much the Heatherwick team was paid have been revealed after Transport for London said the total cost of the Garden Bridge project had topped £50m, with the taxpayer on the hook for £43m.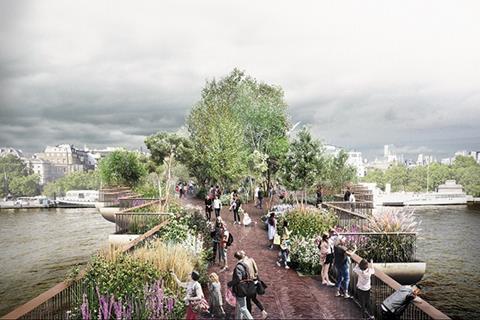 Arup was paid around £12.3m for its work on the scheme, on which it was lead consultant for engineering as well as cost, commercial and schedule management.
About £6.4m of this money was paid to Arup directly by TfL.
The Bouygues team that was supposed to build the Garden Bridge ended up being paid £21m for the river crossing which never happened.
A joint venture led by the French contractor and featuring Italian steelwork firm Cimolai was appointed preferred bidder for the doomed project back in May 2015.
The Bouygues team was paid £18m for the main contract and pre-construction works which included "the selection of tree and landscaping species within Europe and transportation of these for acclimatisation to the UK".
And it was paid a further £2.1m in termination costs while other fees included the £20,651 it spent to lay a new garden as part of the project's community involvement programme.
Legal costs totalled £2.3m while planning consultant Adams Henry Consulting was paid nearly £927,000.
Executive salaries at the Garden Bridge Trust topped £1.7m.