London station undergoing rescoping process following last year's Oakervee Review
A review of Grimshaw's proposals for HS2's station at Euston is expected to reach its conclusion next month.
HS2 was ordered to take another look at the plans following last year's independent review of the project led by Doug Oakervee.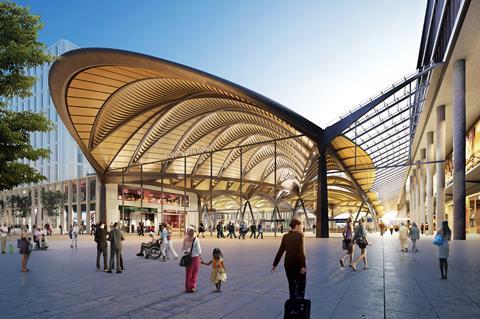 Transport for London (TfL) board papers from last month said the Department for Transport (DfT) had instructed HS2 to proceed with further development of a plan for 10 HS2 platforms, a single-stage build and increased oversite development but that the impact on TfL's infrastructure, operations and passengers needed further consideration.
The existing plan for the station is to build 11 platforms, a new concourse and connections to local Underground stations.
Now papers prepared for this Wednesday's meeting of the TfL programme and investment committee have revealed the ongoing review of London's HS2 terminus, which will be built by a Mace Dragados joint venture, is likely to reach a conclusion next month.
The papers said TfL was working with the DfT, as well as HS2, Network Rail, Camden council and Lendlease, which is leading the overstation development, to assess the preferred option.
TfL said: "Collectively we are working to refine early scheme designs, as well as input into the affordability workstream to ensure any investment delivers best value.
"A decision on the high-level proposal is currently anticipated in April following review through the Euston Partnership."
The Euston Partnership is the name given to the groups working on the review.
TfL said it was also continuing to work with HS2 and its supply chain in reviewing and assuring designs and works more generally to ensure potential impact on its assets and operations were mitigated.