Aberdeen council says talks with Shell on knocking down former HQ were "not a full assessment"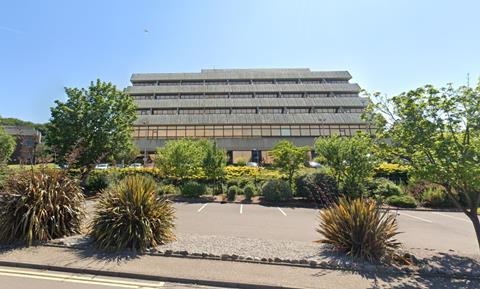 Aberdeen council has contradicted a claim that oil giant Shell's controversial proposals to demolish its former headquarters had "fully explored" the potential for reusing the buildings.
Shell has notified the council of plans to flatten all buildings on the Altens Farm Road site, including a prominent 1970s office block.
The proposals have stirred up national opposition from more than 40 architects and academics who have signed an open letter calling for the council to block the demolitions because of their embodied carbon impact.
In an environmental impact assessment (EIA) submitted to Aberdeen's planning portal, Shell's consultant Aecom said its client had carried out an exercise with the council to assess the possibility of reusing the buildings instead of knocking them down.
Aecom said in the EIA that Shell and the council had "fully explored the potential reuse of the buildings on site which would prevent the need for their demolition."
"The outcome of this exercise was that there were no credible opportunities to reuse the buildings in their current form given their size and it was unlikely that new operators or users could be found for modification or reuse," the EIA stated, adding: "The most suitable option was to demolish the buildings and thereby create a brownfield opportunity site for the redevelopment of the area."
But the council has denied this version of events, telling Building Design: "Planning officers did have initial discussions on the site, however this was not a full assessment of suitability of the site for reuse".
The council said it is currently working through the EIA to determine if there are further steps to be taken and will respond to Shell in due course.
Demolitions of this nature are covered by permitted development regulations and it is understood that they may not require planning consent to go ahead.
Shell has been contacted for comment.
A total of seven buildings would be demolished under the plans, including four linked offices, a laboratory, a nursery and a services block.
Shell is said to want to tear down the buildings as their age, construction and floor plates "do not lend themselves to an efficient or sustainable future use".
No replacement scheme has yet been made public, but Shell is understood to be looking at redeveloping the site for a commercial or industrial use.
The proposals come after last month's decision by Michael Gove to refuse an application by Marks & Spencer to demolish and rebuild its flagship Oxford Street store, partially because of the embodied carbon which would be emitted by the scheme.
The case was mentioned in the open letter, authored by Matthew Clubb, owned of local practice mwclubb, as a planning decision that saved nearly 40,000 tonnes of carbon, an amount which would require the planting of 2.4 million trees to offset.
Signatories of the letter included Moxon Architects founding director Ben Addy, Aberdeen Society of Architects president Richard Slater and Scott Sutherland School of Architecture and Built Environment associate dean David Wilson.