Award-winning 2016 scheme was designed with PLP and built by Mace
A flagship building designed by Amanda Levete's practice AL_A for broadcaster Sky in west London is having to be repaired because the roof is leaking.
Called Sky Central, the £220m building, built by Mace, was completed in 2016 and has been showered with a host of accolades including the BCO's corporate workplace and Best of the Best awards for 2017.
In its citation for the Best of the Best award, the BCO said: "Sky Central defines a new model for the industry's fast-paced and evolving future. The project exudes collaboration at every level and has achieved excellent post-occupancy results."
Designed with PLP as delivery architect, it can fit around 3,500 employees and has been described as the centrepiece of the broadcaster's 13ha media headquarters in Osterley.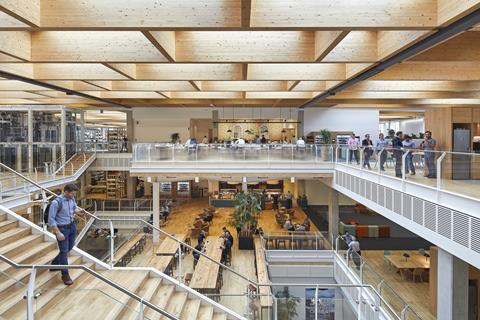 But Building Design's sister title, Building, understands the 41,000sq m building's flat roof has been plagued by a series of leaks. Mace is now set to start repair work later this year.
The roof includes more than 400 roof light panels with the roof itself supported by miles of laminated timber beams.
Mace has already gone out to the market to find a contractor to begin work shrouding the three-storey building in scaffolding. The cost of that job alone is understood to be at least £15m.
One source told Building: "You don't spend that much to do five grand's worth of work. Otherwise, you go up and repair the roof yourself. This is a big repair job and it's a big insurance claim.
"They put a lot of rooflights on the roof to flood it with light inside. But flat roofs have a tendency to leak and it has a huge amount of rooflights and every one of those will have a weak point which will be made even weaker on timber which tends to expand or contract more than concrete or steel."
The roofing contractor on the original job was Lindner Prater while others to work on the scheme included structural engineer Arup and QS Aecom.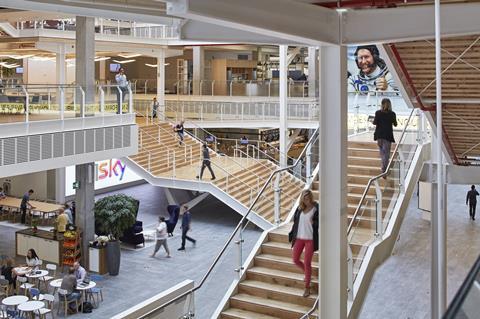 Derby firm B&K Structures also worked on the project, supplying and installing 7,500 linear metres of glulam beams and just under 16,000sq m of large timber roof cassettes with pre-installed gutters.
According to its website, B&K said timber cassettes were chosen because of their ability to reduce airborne sound which was deemed essential because the building sits under the Heathrow flight path.
As well as office space, Sky Central also includes studios and production facilities together with research and development zones and an energy centre.
AL_A and Mace, which was main contractor on the scheme, declined to comment.