Glancy Nicholls and Glenn Howells on team looking at sustainable future of city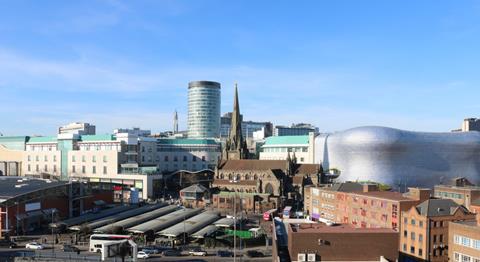 Consultant Arcadis has been appointed by Birmingham council to lead an initiative looking into how the city will evolve over the next two decades.
The firm will work alongside Glancy Nicholls and Glenn Howells on the development of high level proposals for seven areas of central Birmingham earmarked for renewal.
It will be the next phase of the Our Future City Plan (OFCP), which is looking at how Birmingham can continue its transformation into a location for sustainable regeneration up to 2040.
The OFCP will be developed alongside a revised Birmingham Development Plan, which is due to be completed later this year.
The city's council leader Ian Ward said opportunities presented by HS2, the expansion of the Midland Metro and the Commonwealth Games due to be held in the city this summer will make the 2020s a "golden decade" for Birmingham.
"This plan marks a major change from previous approaches to the city centre, with a clear intention to spread the benefits of development and investment into inner city areas, supporting access to infrastructure, jobs and improved public spaces," he added.
Arcadis city executive Simon Marks said the OFCP will be integral to addressing the changing needs of the city in the wake of the covid pandemic.
He said: "'Birmingham is on an exciting journey, and over the last decade we've seen how new challenges and opportunities are impacting the shape of our city.
"From climate change and the digital revolution, to urban mobility and changing retail distribution patterns – and of course the need to drive post-Covid recovery - we are seeing irreversible changes to the way we live, work, play and learn in Birmingham."
The OFCP was informed by a consultation carried out last year which set out six 'city themes' to guide the development of Birmingham, including nature, connections, innovation and growth for all.