Manchester institution set to reopen in July following £6m refurb and extension
Citizens Design Bureau has unveiled its £6m expansion of Manchester Jewish Museum, which has also included the restoration of the site's grade II*-listed Spanish and Portuguese Synagogue.
The synagogue, designed by Edward Salomons and dating back to 1874, closed as a place of worship in the early 1980s and became the Manchester Jewish Museum later in the decade. It has been shut since 2019 for the current works to take place but is now scheduled to reopen in early July.
Citizens Design Bureau's work has added brand new exhibition space, a multi-purpose learning studio and kitchen, and a café where schools, community groups and local businesses can explore Jewish culture through food.
The project has also seen the restoration of the original Cheetham Hill Road synagogue, including two years of work on its stained glass windows by specialist firm Recclesia.
When it reopens in July, the museum will house more than 31,000 objects from personal letters and photographs to more unusual items such as a herring chopper, a Russian washboard used as a cricket bat, an English/Hebrew teapot, a suppository mould and a ceremonial trowel from 1857.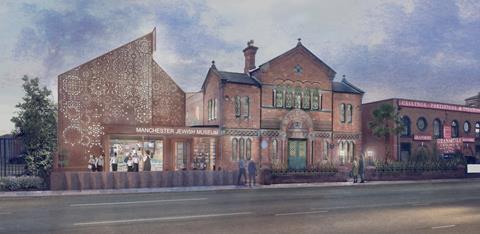 Museum chief executive Max Dunbar said many of the items would go on display for the first time when the new exhibition space opened.
"After years of planning, fundraising and consultations, plus a global pandemic to navigate through, we cannot believe we are finally here, ready to show the city and the world our beautiful museum," he said.
"We really feel we have something special and unique to share with everyone. Our magnificently restored synagogue is a rare gem and is in itself a living artefact telling the story of Jewish migration from the 1870s.
"It will sit alongside our contemporary extension, the design of which has been inspired by our synagogue's stunning Moorish architecture."
The project costs were partly funded with a £3m grant from the National Lottery Heritage Fund.