Sauerbruch Hutton and Cruz y Ortiz among other contenders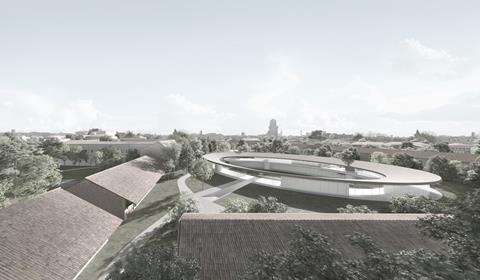 David Chipperfield has won an international design competition for a new campus at the University of Padua in Italy.
The architect's Milan office beat a list of invited practices that included Foster & Partners, Sauerbruch Hutton, Bak Gordon, Barozzi Veiga and Cruz y Ortiz Arquitectos.
Chipperfield is collaborating with engineering company Steam on the PiaveFutura project for the University of Padua.
It will see a new campus built for the department of social and economic sciences on the former Caserma Piave barracks, a 50,000sq m complex between the two city walls in the south-west of Padua's historic centre.
The existing complex includes buildings of the former Sant'Agostino convent which were used by the barracks from the 19th century.
David Chipperfield Architects Milan's winning scheme proposes the recovery of historic buildings for teaching, administrative and research activities as well as a new building at the centre of the campus.
This elliptical pavilion, built partially below ground, will serve study, catering and conference activities.
A spokesperson for the practice said: "The architectural concept is rooted in the idea of a building that will serve both the university and the city, acting as a social condenser.
"The historic architecture of Padua, such as Prato della Valle and the Botanical Garden buildings, is a clear source of inspiration for the proposal."